Witches
Talk

8
11,985pages on
this wiki
Witches were real, only they didn't practice magic. Imagine life back in the colonial 1600's. Imagine a woman who was beautiful in her youth and became accustomed to being treated as a sexual object. As she grew older she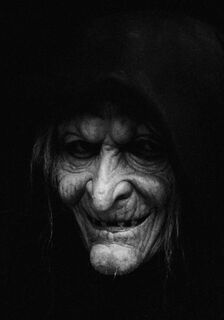 would become increasingly unattractive to the opposite sex. Warts, broken noses, infections, acne, hair trouble, bad teeth, all things that could end a woman's sex life.
Now imagine how utterly crazy a woman can get after going a year or two without any real sexual contact. Bitches trip. Even though we're talking about a 400 year gap, biologically speaking they're almost identical to women today. Being the colonial era where women had almost no rights and were considered property. Their social, and by extension self value, was determined by their looks and ability to keep a house.
But a wife who makes a good housekeeper doesn't necessarily make a good lover, and men throughout history have never been shy about philandering. So imagine, if you will, an old, unattractive, batshit crazy sex-starved maid of a wife whose glory days are long over. Now imagine this woman is desperate for sexual relief. What common household object could she possibly use to act as a phallus and how might someone describe this sight if they saw it? They would probably say she was "riding a broom".