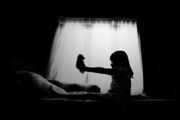 Yesterday, my daughter told me that she had an imaginary friend.
There is nothing strange about that. Lots of young children have imaginary friends.
But there's something strange about her imaginary friend.
She named her friend Giselle.
What is strange about the naming of her friend?
Giselle is the name I would have given my first baby if my wife and I didn't have to get an abortion.
Ad blocker interference detected!
Wikia is a free-to-use site that makes money from advertising. We have a modified experience for viewers using ad blockers

Wikia is not accessible if you've made further modifications. Remove the custom ad blocker rule(s) and the page will load as expected.