Ok, I have to say i have been having  bad luck, I was riding my peddle bike and I some thing popped my tirre of my bike and I  got in a crash. I got scraps  on my knees, back and my stomach. when i looked behind me and i heard fast footsteps coming at me it scared me so i got up and grabbed my bike and ran. When i got home i covered my wounds and right now i'm fine and i told the police and there looking for who ever is stalking people in the woods because it turns out i'm not the only one that got attacked. I'm ok you don't have to worry about me i'll be fine.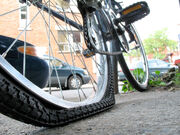 Ad blocker interference detected!
Wikia is a free-to-use site that makes money from advertising. We have a modified experience for viewers using ad blockers

Wikia is not accessible if you've made further modifications. Remove the custom ad blocker rule(s) and the page will load as expected.