Hi! Welcome to Ghost andToast's Paranormal Investigators Extraordinaire Code shop.
What is exactly here exactly?
I can't scare the Jimmies out of a person but I'm in high school right now and learning new codes every Monday and Thursday and test them all out and thankfully Wikia uses some HTML codess that we can use so life would be easier.
Seeing as some people's first language isn't English or needs help with editing their stories while they don't have free time and here is where i come in.
My grammar isn't 100% perfect as well but if someone needs their page fix with either coding or spelling issues I'm(probably)here to help and maybe you can scare the Jimmies out of someone's socks.
So how do i hire you?
Well first i need a link to your page and what you need help.
Spelling seems to be the most common problem here but they're probably in the trollpasta wiki now but if it isn't and you need someone to fix the spelling for just comment below.
Take note I'm a Catholic so this may cause some problems.
"But toast" i hear you saying "What's the catch and why should i trust you?"
The catch would be experience for me especially for coding as i learn something new from my ICT teacher every Monday and Thursday and if i have spare time can use my own userpage as a test subject for coding(or notepad) of course you can have this nifty Table stub telling people your story is being repaired or not.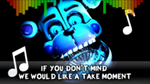 If you don't mind we would like to take a moment
This page is being currently "renovated" by Toast. Complaints?
Tell me in my ham radio and remember to scream loudly.
And the trust me part well. That's all on you.