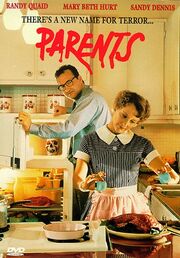 Parents
is a horror/dark comedy directed by Bob Balaban. I had heard about this film for years but I never got around to purchasing a copy. It stars Randy Quaid and Mary Beth Hurt as Father and Mother, two 1950s loving parents of their boy, Michael (Bryan Madorsky).
While I was expecting a more prevalent sense of humor throughout the film, I was still not disappointed. This film is surprisingly dark and disturbing and is most likely Randy Quaid's greatest performance of all-time. (No, it is most certainly not Christmas Vacation 2: Cousin Eddie's Island Adventure.)
The film captures the essence of what every child fears about their parents secrets. We can all remember the time our parents told us to eat our greens so we can be strong, or to stop making faces or they'll get stuck that way. But what about the things they didn't tell us? When we were little, we were simply too innocent for our parents to fully expose us to the horrors or upsetting nature of the world so they lied or told us that we didn't need to know.
This film is primarily in the perspective of Michael, as he slowly suspects his father and mother are eating human bodies for dinner. There's never a clear understanding as to whether or not his suspicions are correct until the end and that is what I believe Balaban's intention with the film was.
The whole film is about the imagination of Michael and how he perceives the world.  At one moment he walks in on Mother and Father in the living room, having sex. He doesn't know what's going on and he incorporates that with his fear of meat into his nightmares. Eventually his memory of that event changes into one of Mother and Father having sex while bathing in blood.
Imagine every ridiculous paranoia you had as a child about family secrets. This film exploits it. It also does a great job of maki
ng the father figure in a family seem more ominous which can only bring back old absurd suspicions about your father or mother. Randy Quaid actually comes off as an intimidating figure and I found myself at times, shocked or tense as to what he was about to do. Despite the terror, there are moments of comedy, but they tend to stay more towards the beginning of the film more than anything. They weren't laugh out loud moments, but more so moments of shock humor. They were still wildly amusing.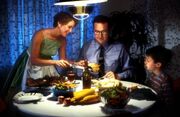 All in all, I would recommend Parents to anyone who wants to see a horror-comedy that makes them shudder and be entertained all at once. It's a shame this film has faded into general obscuirty because there's a lot of talent shining through in this film. If it had been well-known, perhaps Randy Quaid wouldn't have completely lost his mind and fled the country.