hey I'll tell you about my boyfriend's dog Smilla so let's begin:

I would sleep over at my boyfriend tobias.smilla she was in the living room so we sat down and watch TV for a while but I felt a sense a strange feeling that someone staring at me. - T-tobias you feel a sense of someone watching us? .
- Yes it is Smilla staring at us and smiling.
I started shaking when I look into her eyes. blue eyes, a wide black stripe on the back, its thick husky coat and the terrible curse smile. We watch TV until we'd eaten food. then we put ourselves in the couch and cuddled and ate candy. then it was time to sleep. that night I had a dream about Smilla. I hid behind a ten in the dream. then I shouted: SMILLA GO AWAY FROM THE BEAR TRAP NOW! . she refused. she made the terrible smile at me. I hid again. I thought, oh no what do I do now? . then when I look up again as Smilla was not herself she was red with a large black stripe on the back red eyes and a big smile. I began to cry and wake time was 1 at night. a dream that was lucky. I fall asleep late and the morning were Smilla gone. I went down to tobias to ask where Smilla was and he said: I do not know. I panicked when I heard a crash from upstairs. tobias and I ran up and the window was broken there was glass everywhere. - Tobias I had a dream about your dog and ... . - And what? . - I think your dog is smile.jpg for Smilla was normal at first but a red dog afterwards. - Smilla's smile.jpg.
and after the so called Smilla smile.jpg and if you see a husky with a necklaces that are like chain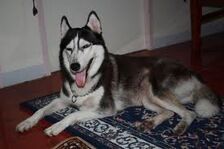 ? so let it be because it is Smilla.
she could sing very beautiful.