Hello, Creepypasta Wiki. I have a few things to address here, one being pretty big news for me.
First off, I'd like to state that In Torment has been fully remastered from top to bottom. The story is now a complete retelling of the same story, but with added scenes and far superior quality- along with character development. Overall, I think I've finally given this story, the start of my long-running series, which is over a year old, the treatment it deserves as a major piece of the story arch.
Secondly, now that In Torment has been remastered, the only thing on my checklist is Mantle. I will now begin writing this story- the end of the In Torment series as a whole, very, very soon. (Doom launches today, so give me a day or two to feel nostalgic and check if it lives up to the hype I gave it) I've put a lot of planning into the conclusion of this series, and I do believe it will be the best out of everything I've ever written- which is a key component of writing. Constantly improving. With Michael and Leviathan (Jackson), the two best characters I've ever made (also, one starting off as a villain, and the other as a villainistic protagonist) finally facing off, there will be a lot of scenes that would never be expected. Very excited for this one.
Finally, I would like to announce that some time after Mantle launches, I will be publishing an E-book titled In Torment Anthology: From The Night Man to Mantle, which will be, obviously, a bundle of all of the stories together. I would like to point out a few things, though.
I don't expect to make money from this story at all. In fact, my rule of thumb for the E-book is that it will be free, or I don't do it. The idea of charging for something that was intended to be free in the beginning will never sit right with me.
I'm not doing this for any reason other than experience. Wanting to publish some later stories I'll be working on, I think the personal experience of self-publishing this will add to that. It's all about the experience of doing it, nothing else.
It won't include anything special. No bonus stories, no content that is crucial to the series, nothing. It's simply an anthology of the stories which are, and will always be, on this site. Nothing more.
The cover was constructed by RuckusQuantum, one of the two people I spoke of this about (the other being Empy).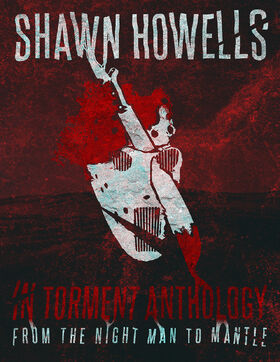 The cover portrays Michael's machete through Leviathan's mask (the mask of the champion, which Michael constructed), over a backdrop of the Ocean (a reference to Michael's origin story, Oceanic).
No date known on the release of Mantle or the anthology by extension. Just some announcements.