Hello, Creepypasta Wiki Community, and welcome to Creepweek. Creepweek will showcase one Creepypasta a day, leading to Halloween, where Shocktober will start. Creepweek will mainly focus on Creepypastas that perfectly hit the newly arrived season's feelings on the head, and I highly encourage you to read each day's submission. They will help you get into the season's mood, and also help you find and explore some new layers of literature.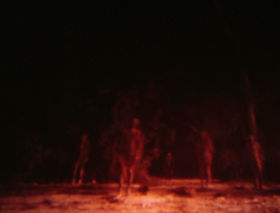 What better to kick off Creepweek, than a story in our very own Halloween category?
Out in the Woods is more of a unique story, as it actually stemmed from a post on /x/, 4chan's paranormal board. Many people consider this the father to Creepypasta itself, and /x/ certainly played a roll in its creation.
The story was originally added to the board by a user named prozac101 on Halloween day, 2013. Think about what you were doing on Halloween that year. Now read the story, and view the difference.
Going through disturbing things as a child can be hard to cope with, and prozac101 certainly had her fair share of strange occurrences. A very well constructed story, it may just be the next big thing in causing sleep disorders.
Just remember- you never know what's out there, walking Out in the Woods.