Finally, I have managed to read the short story collection Meet the Cast, which is posted here in the Wiki, and let me tell you folks, I had never seen anything as unique and unsettling as these stories. The idea of someone's fate revolving around a small piece of die, in the beginning of this project about two years ago, seemed as a bit too high above the ceiling for me - Mystreve and I shared the same thoughts, yeah - but I was quite surprised to find out these authors were able to pull this project pretty damn well. Now, two years after this collection had been published, I have now harbored the courage and patience to give this extremely lengthy piece a read... and I can say that I don't and will ever regret my decision.
Soon after reading the collection, an unexpected and frankly a risky idea came to me. I considered giving it a shot, but because real life gets too often on my way, I haven't been able to do it for more than a week... boy, I have to tell you I never had that much stress in my damn life. Fortunately, my schedule has loosen up a bit. So that gives me ample time to at least announce the new project I'm working on. And I'm sure you guys will be happy about it, and possibly be hyped.
Wait for it... A free e-book version, FREE, of Meet the Cast is now green-lit!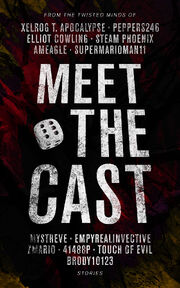 I haven't done pretty much anything to the book, really. Life, specifically school, consumes too much of my time and because of this, I had been barely able to do what I like to do, and contribute anything to the Wiki except those stupid blog comments and sparse talk page messages. Although, just as always, I have already designed the cover of the e-book. It always goes first, always, and I'm satisfied with the results.
I have yet to lay down my plans on this small e-book project of mine, for the reasons stated numerous times above, so expect to not hear any update for about a week or two. During my idle periods, just know that I'm either dealing with life or working on this e-book. And I promise, when I soon complete this project, it will be available in two different formats: reflowable ePub format (Kindle, Nook, etc.) and PDF format... and good thing is it will not cost you anything at all!
So yeah, I don't have much time left to shed some light on some details, but to wrap this up, here's a TL;DR: I'm now working on a e-book version of Meet the Cast and it will be released soon. I'll update this blog if I ever get the time, which I'm sure will come sooner or later.
Wish me luck, folks. I hope I could do this.