I just wanted to give you guys a heads up about my upcomeing creepypasta The Scratcher. He is a nightmare i rember haveing when i was young it was tottaly terrifying. Soooo i thought maybe itll creep a few people out! Hopefully ill create a brand new Creepypasta meme that would be soo cool! The proccess is going smothly and is going quite fast, just to let you guys know to!!!! If any of you like it, please help me out and tell me that just to make me know it cool then i can make sequels!!! SORRY ABOUT MY SPELLING IF THERE ARE ANY ERRORS IM WRITEING THIS WITH ONE HAND I WAS JUST IN A CAR ACCIDENT SO I MIGHT HAVE MESS SOME STUFF UP.. AGAIN SORRY P.S I LOVE CAPS LOCK:P oh and your nightmare picture of the week issssssssss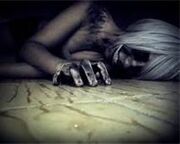 Ad blocker interference detected!
Wikia is a free-to-use site that makes money from advertising. We have a modified experience for viewers using ad blockers

Wikia is not accessible if you've made further modifications. Remove the custom ad blocker rule(s) and the page will load as expected.