I'm Kim Kiss, yes I am using the name of a O.C. Creepypasta but that's only because... well i felt like it lol. I love horror stories and will constantly be asking if something is a good idea for a creepypasta or plain horror story. I love writing, art, and music. If you wish to not address me as Kim Kiss then you may call me Lee or Liya, both nicknames of mine. Just to be clear, I don't put up with bullies. If you wish to know Kim's story look up "Myra Phantomhive and Kim Kiss" On quotev. I have made a Creepypasta page on facebook if you want to check that out: https://www.facebook.com/pages/Creepypasta-_Rp_/1406662489624851?ref=hl
I am vegetarian and atheist fyi so please stay off those types of topics with me...
Ben Drowned is my favorite Creepypasta. ---->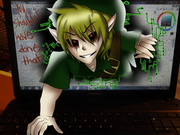 Eyeless jack is my second favorite
Ticci Toby is my third favorite
Ad blocker interference detected!
Wikia is a free-to-use site that makes money from advertising. We have a modified experience for viewers using ad blockers

Wikia is not accessible if you've made further modifications. Remove the custom ad blocker rule(s) and the page will load as expected.