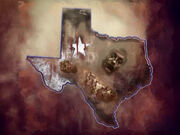 A Creepypasta that is funny? Blasphemy! I'm sorry, I had to do it. But to give me some credit, this story started out very differently. It was a concept that I will eventually get put out because it is a scenario that I have never heard of, very realistic, and chilling.
So, this Texas tale began simply with just a tiny exert for character development and it grew and grew. It slowly transformed from amusing to something I genuinely thought was humorous. It is basically a series of Texan stereotypes, helped along by its rich history of a love for tall tales that are the root of this story, with a total lack of seriousness. The other story was very dark, but I could not find a way for this character to come out on top. The more I wrote, the more I got attached to him, despite all his failings.
Now this character is insensitive, he's not too bright and maybe a bit racial dimwitted. I tried very hard not to let those traits distract from the fun of the story and, in fact, attempted to reconcile those behaviors as immaturity from his youth. Don't judge him too harshly, he's really a good ol'boy. He's just not the brightest nut in the turd.