Any of you guys into that eighties vampire movie
The Lost Boys
?
Because we just did a Lost Boys vacation and it was a fucking blast.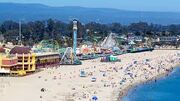 First we cruised down to Sana Cruz and got a beach front room where we could see the boardwalk so predominantly featured in the movie. Then we hunkered down and watched that classic flick. Probably about the fiftieth time for my wife and I, who both saw it in the theatre, and the first for our ten-year-old son. It still holds up really well. I could tell because it scared the shit out of my kid. Sure, it's way over the top with its eighties culture, but that just cements its place in time.
Then we hit the boardwalk.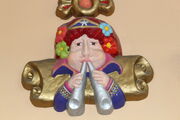 First to the carousel, where the movie opens, the vampires slinking through the rising and falling horses, ensconsed in fog.  The carousel was built in 1911 and is a registered historical landmark. Then we checked out the stage where that weird muscle guy played the saxaphone (one of the creepiest parts of the movie, lol). We noted all the rides that were in the movie, like The Giant Dipper, built in 1924 and still running today. Of course, the entire time we sang
People Are Strange 
by the Doors.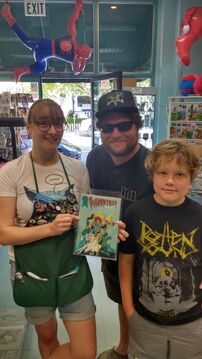 Then we hit Atlantis Fantasyland Comics. I told the girl behind the counter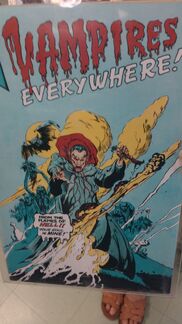 that I was looking for Batman number 14. She knew the score and immediately asked me if I was Lost Boys fan and would I like to take a picture of the prop horror comic used in the film. Hell yeah I wanted a photo of the iconic vampire comic used by the Frog brothers to warn Sam about the undead creatures of the night. She let me get my picture taken with it, but I was not allowed to touch it. 
"It was a really scary comic, mom."
Finally we ate dinner at the restaurant on the pier where Lucy ran out on Max when Sam called her in a panic.
A great trip, though I got the shit sunburned out of me lounging on the beach and thinking of horror story ideas.
The icing on the cake was when we went to the Montery Bay Aquarium and in the tentacles department they had a copy of The Call of Cthulhu and an original sketch by the man himself: H. P. Lovecraft.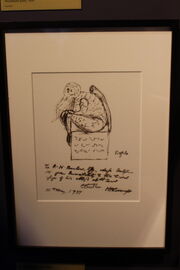 Of course what trip to the central California coast would be complete with out a little John Steinbeck? We've visited his house and The John Steinbeck Museum before. But if I'm in Monterey I have to drink a beer on Cannery Row in honor of Doc and the boys.