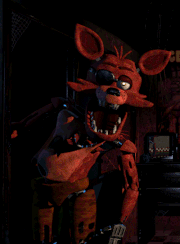 We are the foxes of the cove; Pirates Cove
So hi guys we love foxy from fnaf he is are fav
We are a group of people from all over North America
Are motto is WE are dark,WE are deadly,most INPORTAINT we are foxes...WE ARE FOXYS CREW!
Are fav game is fnaf
Are fav books are the Warrior cat books
We love cats and foxes
Are group watches youtube like crazy O.o
We also like to draw('-') :3
Ad blocker interference detected!
Wikia is a free-to-use site that makes money from advertising. We have a modified experience for viewers using ad blockers

Wikia is not accessible if you've made further modifications. Remove the custom ad blocker rule(s) and the page will load as expected.