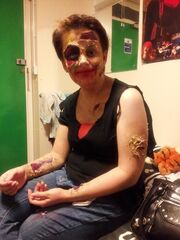 Well, here's my Hallowe'en costume!
Basically, when I started putting this together, I was still poor, so I only used toilet paper, PVA glue and acrylic paints. Then my loan came through and I could afford to get a pair of white UV contact lenses. I think it looks more effective with just one, and they're supposed to glow in UV lighting but I haven't seen them in action yet.
When my friend and I went out in light drizzle, looking for a Hallowe'en party, I did start to peel in places. Maybe I didn't use enough glue or maybe I just moved around too much. Anyway, we walked around for an hour an a half and still didn't find the house, so we gave up,went to a friend's place and drank some bloody punch.
I'm posting the link for the zombie makeup tutorial video I used:
http://www.youtube.com/watch?v=BkWqfXdCNaQ
(Warning: the guy swears in the video. Dun dun DUUUUUUN!)
And here's how to make your own bloody punch! Get a Bag For Life, you're going to ASDA!
You will need:
400ml PINEAPPLE JUICE
400ml ORANGE AND MANGO JUICE 
50-100ml STRAWBERRY SYRUP (can be found in the World Foods section)
Good glug of LIME JUICE (or about half a lime squeezed in)
Good glug of RED FOOD COLOURING (add to the punch until it's the shade you want)
You may also like to add:
200ml VODKA or RUM
Handful of MINI MARSHMALLOWS
Directions:
Just mix it all together in a jug, throw the marshmallows on the top and serve. Because the punch has all that fruit juice in it, it's best to keep it in the fridge and discard after a few days.
Happy Hallowe'en, everybody x