I've never actually done one of these, but I think it would be nice to introduce myself to the newer users.
My name is Ecuinach, (No, not in real life silly. My real name is a big secret that isn't really a secret because everyone knows it.} I recently turned 16, and I work part-time as a buser for Texas Roadhouse, a steak house. I used to write, but I haven't felt like doing so in a few months. Since that time though, I've been editing and reviewing stories in WW.  Although, I haven't been motivated to do that either since the chat shutdown.
Speaking of chat, that was one of the more intresting features of this site because it let you talk with others in real time. If you ever need to speak to me, you can find at Spinpasta chat.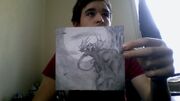 One of my favorite things to do is draw, and I am skilled at it. Most pieces (complete ones) can take up to 8 or more hours, so I like to take breaks. One issue I have is inspiration and ideas, though. I will actually be making a second blog post for that.
I love to read as well. That is what drew me to creepypasta. I am a fairly fast reader, and if I'm into a book I can finish it in one day. I enjoy the Game of Thrones, and most sci-fi or fantasy novels.
Anyway, this is getting on the long side. If you have questions, leave them in the comments.
~Gray