Hi.
Do YoU wAnT tO hUg Me?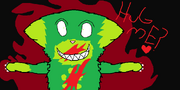 PlEaSe HuG mE!
<3 So I made this picture.
Took me a hour.
Bug said to me "I think its funny your profile pic is happy and dancing around while your talking about murdering people."
And I thought
"Challenge  accepted"
Then this happened.
Isn't she beutiful? 
(Omg everyone run its insane earthstar!!!)