"Whoever doesn't like Bentheloony's rants can GO TO HELL!!1111 HE IS A GUD RANTER AND HE PUTS HIS IPINION ON HIS VIDS AND HIS OPINIONS ARE RIGHT! YOU CAN ALL GO TO HELL FOR GIVING NEW SHOWS A CHUNCE! LL9OLOOLOL" - Some n00b a few weeks ago
Hello, world, it is I, The Koromo, here with a new blog post.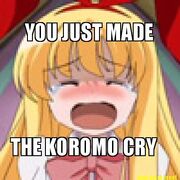 Do you ever notice how shitty nostalgia elitists tend to whore their favorite shows from childhood memories and not give new cartoons/books/shows or whatever? This kind of person irks The Koromo to no end.
It seems that even if the product is good enough, so called fans will bash it for being made in the 2000s. A good example is Space Jam, the Looney Tunes movie from the 90's. Many people thought that the movie was funny simply because it was made in the 90's. Even though The Koromo likes that movie, I've noticed that some people though it was unfunny, and claim that people only liked Space Jam because it was made in the 90's as opposed to the 2000s, which really PISSES The Koromo off!
There are plenty of good things to come out in the modern age, but people are too busy hogging their nostalgia to think there is nothing good. Sure, there is alot of shitty shit out these days (pop music, rap, marketing) but there is alot of stuff out there that is NOT that bad in the modern age. I say stop masturbating to your past memories and learn to move on with time.