Comment

1
LOOK AT MY SELF-ADVERTISING. IT IS BEAUTIFUL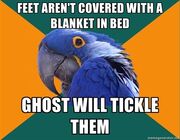 That's right. I'm self-advertising.
Actually, to follow up my last post (that nobody read, not that I care, I only wanted the badge T_T), I want to see what people think of this:
That's a story. I wrote it. You should have a look and tell me if it's any good. I have better ones, but they're not done yet and I'm not sure I'll ever finish them.
A-Lord-Over-Birds (talk) 01:41, February 26, 2014 (UTC)
Ad blocker interference detected!
Wikia is a free-to-use site that makes money from advertising. We have a modified experience for viewers using ad blockers

Wikia is not accessible if you've made further modifications. Remove the custom ad blocker rule(s) and the page will load as expected.