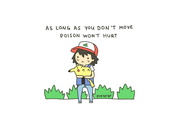 As I plan to be a journalist eventually, I want to strengthen my skills at writing. Especially writing horror. So I came here to both get inspiration and improve my own skills.
I love video games, so there may be a creepypasta here or there regarding them. My favorites include Mario, Zelda, Kirby, Pokemon, Fire Emblem, Megaman, Fatal Frame, No More Heroes, Ragnarok Online, Final Fantasy, Okami, Cave Story, and my favorite series in the world: Metroid.
I'm also an avid anime lover as well. Whee.
I like scary things, but it's tough to really unnerve me. I enjoy the SAW series, assorted movies like The Ring and Meadowoods, Marble Hornets, making fun of how cheesy the first Paranormal Activity is, and creepy/scary games like Fatal Frame and, recently, .flow, thanks to my boyfriend.
I actually get very bored with Lost Episode creepypastas and most video game creepypastas that aren't BEN DROWNED or Pokemon-related. I'm not sure why, they just all seem the same with the same cliches.
I enjoy critisism, and whenever someone could pass me some of that, I'd appreciate it.
Last but not least, I love reading, and some of my favorite books include the Harry Potter series, Red Midnight, The Giver, Fahrenheit 451, Night, Boys Without Names, Impulse/Burned/Crank/Glass/Identical/Anything by Ellen Hopkins, King of the Screw-Ups, and of course The Very Hungry Caterpillar.