Former site admin.
Evra

Age:

18

Goals:

To rid this wiki of SOCKPUPPETRY!


To keep this wiki the best of them all!

Likes:

Acting, Movies, Cars, Racing, Scary stuff

Dislikes:

Crappypasta, Bronies, Both JTK's

Stories:
Evra the Kid
"Good day. I am Evra, god of mischief, and I like to wear colourful bowties!"
Good day. My name is Evra, and I am eighteen years old. I'm a dern COLLEGE STUDENT. I've lived in many countries, so I don't consider myself to have a country of origin. However, because HiddenSpirit hates England so much, I call myself British.
Besides reading and writing pastas, I like listening to and playing music - good music, such as metal or hard rock ranging from Van Halen to Ozzy Osbourne. I used to preform weekly with some friends for fun. I'm also a fan of Kpop, and I'm damn near fluent in Korean, so I'm not listening to it retardedly like many others I know. I like cartoons and stuff like DC comics and shows such as Batman: The Animated Series, and other good cartoons like Teen Titans and The Last Airbender. I'm a huge car guy, so I watch Top Gear (U. K.) too.
There's a number of things I do for fun, aside from using the Internet. I like writing music, acting, practicing voice acting in case I can use it, and a few odd video games such as Mabinogi.
I especially love my current street racing league. If I'm not on the wiki, it's reasonable to guess that that idiot - Evra - is out on the streets traveling at dangerously high speeds. If don't show my face on the wiki for say, a whole week, then I might have crashed. Silly me, I won't crash! I'm the god of mischief!
I'm "Harley Quinn" over the Joker...
I was introduced to this website shortly before joining, and it really got me into creepy/horrific stories; of course, I like horror novels and books to begin with. I exceptionally like the unknowns and the possibles such as parapsychology and hauntings, as well as dealings with insanity or things that question reality and natural laws.
Many of the things you'll see me write about will be based on personal experiences. I like to add a bit realism. I try to be creative as much as possible, but the American school system stamped out nearly every inch if creativity out of me... Consequently, my pastas may be laced with cliche.
Oh, and if you ever see me and THIS loser (AKA Mrs. Rich Hidden J. American Cheeseburger Spirit the Third) randomly insulting each other, it's completely harmless and not to be taken seriously.
Bans or Blocks by me...
Uh-huh, I'm an administrator. I try to be as fair as possible. It's your responsibility to read the rules and ignorance of the rules is NO EXCUSE.
I'll drop my super-awesome banhammer without a moment's hesitation! A Banhammer forged with the weight of four hundred suns!
If it was me who banned you, scroll down to my additional info for my e-mail address and send me an e-mail (that includes your username) convincing me why I should shorten your block/ban. Any rage-filled or poorly written emails will be laughed at and ignored. I'll only accept ban appeals through my e-mail. If you have another account post on my wall on your behalf, I may even lengthen your ban.
If I deleted one of your pages and you want it undeleted, don't leave a message on my talk page, user the Deletion Appeal page. I will, however, e-mail you a deleted pasta if you want it back.
Broslist/ People I Associate with/ People I love
These are the people I know on the wiki, listed alphabetically. Feel free to add yourself in if you wish... Or take yourself off...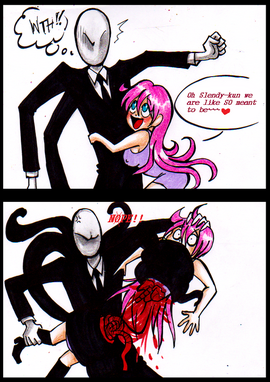 My Favourite Pages
Additional Info/ Contact Info
If you are dying to speak with me, and I'm not in the chat, then you can contact me through one of the following...
Photo Gallery