The Tiger and the Persimmon
Talk

2
12,081pages on
this wiki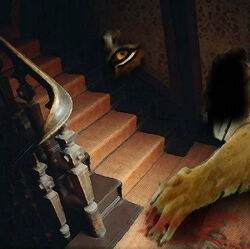 Besides having a lot of books about Ireland, my dad has quite a collection on Asian culture. One of these features a series of folk tales from Korea. The tale featured here is more funny than scary, its a rather well-known story about a very gulliable tiger and a piece of dried fruit. There's also a Japanese version, but I can't locate the specific book it's in.
The tale here is in the exact words of the narrator.

Told by Ma Hĕ-Song; Gĕsĕng (1925)
From Folk Tales From Korea </u>(1952)
Collected and translated by Zong In-Sob _______________________________________________________________________________________
The Tiger and the Persimmon
One night a tiger came down to a village. It crept stealthily into the garden of a house and listened at the window. It heard a child crying. Then came the voice of its mother scolding it. 'Stop crying this very minute! The tiger is here!' But the child took no notice and went on crying.
So the tiger said to himself, 'the child is not the least bit afraid of me. He must be a real hero.' Then the mother said, 'Here is a dried persimmon.' And the child stopped crying immediately. Now the tiger was really frightened and said to himself, 'This persimmon must be a terrible creature.' And he gave up its plan of carrying off the child.

So it went to the outhouse to get an ox instead. There was a thief in there, and he mistook it for an ox and got on its back. The tiger was terrified, and ran off as fast as it could go. 'This must be the terrible persimmon attacking me!' it thought. The thief still rode on its back and whipped it up so that he might get away before the villagers saw him stealing an ox.

When it grew light the thief saw he was riding on a tiger and leapt off. But the tiger just raced on to the mountains without looking back.