The Sniper
Talk

16
11,917pages on
this wiki
Background
The United States and the Soviet Union were superpowers during World War II. Tensions grew between them and that eventually led to the Cold War, although there is a classified creature that was used in the war by the USSR, during the great conflict, a Russian sniper named Nigel Cannabi was killed during the battle by Arthur D. Nicholson, an American soldier during the war. Russia brought the man back to life with secret technology that was only known by the great communist empire. It was named Sniper.
The Creation
The scientist that created the Sniper was Verat Gonzel. He did not want to make Sniper, and attempted to make the Army change their minds. He told that making the creature was not smart, as he has not yet found any evidence that it could be useful, and could in fact be a complete threat. Sniper was also to be immortal- it would be classified as a super-soldier. There is always the possibility that it would turn on the Army. Joseph Stalin, the man who ordered him to create it, told him that, "it won't be any danger to the army even if it fails." Verat gave up and had to follow the orders But when it was created, it seemed to have just "sat there and done nothing," all the time holding its sniper rifle. It lay in its static stance for three days on end.  Its appearance was not what they would expect either, it did look just like a human, although its pupils were a bright red color and seemed to flicker like a light running low on its battery, Verat told the Army that the red eyes were supposed to cause fright, but the flickering was something he would leave alone, as it would take to long to get every detail right. Every other detail was correct, but it wore ripped jeans and a hood, showing only its blood red glowing eyes.
The Deaths Begin
Even after a further 3 days, it was still in its trance. Joseph told Verat to get rid of Sniper and just declare the project. Verat said that he would do it tomorrow. A day went by, and Verat heard a scream in the 
lab where the Sniper was being kept. 
A few Russian soldiers ran quickly into the room, and found the Sniper eating the veins, capillaries, and other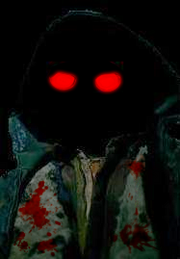 generic blood vessels out of the general's arm. The creature looked at them with glowing red eyes, and charged angrily. It jumped on the first Russian soldier, and pierced his hand through his back, and blood gushed out constantly, until it shot its hand out with his spinal cord in its hand. The others ran for help, but he was right on their tail. It seemed that the creature was far faster than a normal human being. He pounced on them and dug its teeth into one man's neck, and dug its teeth deeper as deep red blood oozed out. The soldier began to scream at the top of his lungs as blood sprayed out of the man and the creature let go with the mylohyoid
muscle in its mouth.
As the Russian scientists ran to the scene to find the bodies of the two soldiers he killed, along with the general, they became paralyzed in fright, no bites or anything seemed to be present on the men. The scientist then ran to the room the Sniper was in, only to find him in the same spot as before. The scientist had no idea of what could have happened, no DNA was found but one thing for sure, no enemy soldier was responsible, even the countries top scientist was not able to figure out what could have happened. After five weeks went by a estimate of twenty-seven soldiers were killed, the soldiers became scared, even Joseph himself was afraid of the mysterious murder. After another week went by, Sniper awoke from its slumber and rushed to Gonzels room. Verat was still asleep, so he grabbed him and dragged him to the cellar. Verat awoke in a room full of corpses from the murdered soldiers. He then realized he was chained to a concrete wall. He could not get free, even after struggling for what seemed like an eternity. Screaming was no option as the walls and ceiling were made of concrete block construction. He knew he was doomed, so he just looked at the ground and began to cry. But before he shed his first tear he looked up and saw Sniper staring him in the face. His eyes became wide. Despite his fear, he was also very concerned and curious about what his creation will do to the army. Sniper then punched its hand straight through the scientist's chest. Verat began to scream in pain but his scream quickly got quieter as it started ripping out the scientist's heart, it dug its teeth in the heart as blood began squirting out, its fingers where dripping, and its clothes where stained. It then put its hands around Verat's neck, ripping it open while blood splashed on its face, and dripping down its legs. He then pulled out his sniper rifle, aimed it at his head, and pulled the trigger for the first time ever. His head exploded, leaving his facial parts flying everywhere. As Sniper finished off Verat, it heard footsteps coming down the steps of the cellar. It was Nikolai Yezhov, as he came down four steps he began to scream in terror as he saw the decapitated head of Verat, no Sniper in sight. When he told Joseph, he became over whelmed with terror, and he told the scientists to investigate Verat's body. They once again found absolutely no DNA, fingerprints, footprints, or any signs of the killer. The soldiers were scared; they did not know who could do this and why. Some speculated it was American Spies who did the killing. It seemed like every day one more soldier went missing. Then years later, the USSR's army seemed to shrink more and more after days, weeks, months and years went by, until the Soviet Union's army was turned very scanty. Every soldier was killed, some by American soldiers, some by suicide, and some by Sniper, so of course The United States ended up winning the war from 1947 to 1991, but there still leaves Stalin. Joseph was in Kuntsevo Dacha, standing on a chair, with a rope around his neck. His eyes where dripping with blood over the tears he cried, he was about ready to jump, after the door swung open, and a hooded figure with glowing red eyes walked in, Stalin was in shock as he realized that it was infact the Sniper, he tried to jump off, but Sniper removed the rope, and threw him to the ground. Stalin became frustrated and began to yell at him saying :"You monster, you have killed all of these great men, you have taken all the lives of every last soldier you can find, although I have no idea how you did it without notice, but please take me as well!" The creature began to speak: "That will be a pleasure Stalin, it was a pleasure killing every soldier from this army I can find, I do not like being this abomination you call Sniper, and to answer your question, you never let Verat finish. I was also going to be a super-spy not just a soldier. This war could have taken thousands of years and not a single person could realize it was me. It will be a pleasure killing the man who brought communism into this corrupt nation." Stalin stood in place for a second before catching sight of his rifle that he left by the door, he rushed towards it and was able to get a hold of it, he aimed it at his head but did not fire. Sniper just stood and laughed as Stalin was in complete confusion and fear. Stalin dropped the gun, then broke down and cried, as Sniper began to laugh even more. Sniper picked up the rifle and swung it at his head which killed him. Sniper picked him up and laid him on his work desk, and reached into the pocket of his coat and pulled out a syringe and began to inject him with a disease, he cleaned the flowing blood from his head cleaned the finger prints, and all other DNA he could find and left. Then it was the year March 5, 1953, Stalin was found in his room dead with a cigarette in his hand, the test showed he died from atherosclerosis. ----------------- Written by Ty Rezac.
Fan Art