The Real "Wyoming Incident"
Talk

1
11,913pages on
this wiki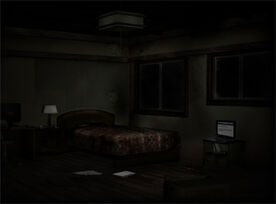 There's this story I keep hearing about something called the Wyoming Incident. I don't really know what it's about. I sort of wish I did, because I thought I understood about it a long time ago. It turns out that I really never knew what the "Wyoming Incident" was about. I returned to this website mostly to inform you that "Creepypasta" is not just unreal; it is actually very real. This particular story is about the Wyoming Incident.
I entrust that you caution yourself while reading this text. There is a lot to take in from what I have to tell you, and you may find yourself running into similar problems like I did when I looked more into this.
The Wyoming Incident "Symptoms"
First of all, there was once a joke about what the Wyoming Incident "did." Of course, it had your typical symptoms of nausea and light-headedness. I always was curious why these 'symptoms' occurred. It turns out it has to deal with your spiritual consciousness, but I will explain that later in this article.
I'm sort of afraid to "leak" the Wyoming Incident to you, but if you're informed about its exact effects and what it does to you, you may very well be fine. In fact... I promise you.
"You Will See Such Pretty Things" - Part 1
In this video, you will be presented with the first "Wyoming Incident" video. Be forewarned of the following features:
First screen. This is the "333-333-333" 'Presentation.' Do not think about this number. Do not try to do complex arithmetic with this number. Do not try to understand this video further from this screen. This is an extremely dangerous ritual involving a series of suicidal procedures in a forbidden Satanic ritual.
Second screen. You will be presented with,
"You Will
See 'Such
Pretty Things."
Discount this immediately. Discount the thought. Do not gain more insight to the message. This is an extremist message of sublimination through the idea of existentialism. You may possibly die from this first message.
Third screen. This screen has been considered the "symptom" part of the video. That is because this was developed on a little known program at the time. This program was developed by a ghost, much in the same was as the "Lavender Town frequency" phenomenon, which are still being investigated to this day.
Take a drink of water and watch this in a comfortable location.
It's interesting to note that there is no music in this video compared to all the other videos, however there are certainly binaural frequencies attuned to the possible "paranoia" tuning that the 'Lavender.wav' file is tuned to (a frequency that can only be fixed; not considered possible to musicians because musical theory denies this allowance of imperfection)
Every time I show my friends this video, they never knew what to say. So far, none have told me exactly what they saw that night. They saw this video, which is basically "Wyoming Incident 1.5."
This has been a great cover-up, considering they found the actual folk that did the Wyoming Incident after the first video was uploaded and acted as them to get the point across.
This was the actual video after #1. You won't find any on YouTube. It infringed the copyright and was deleted after it was put on YouTube. The actual first video is completely gone. This was the second video, but clearly, the morons on YouTube never actually found out that it was still uploaded because I was the guy that kept all of the videos: including the first one.
Keep in mind that the "fake" series apparently features 'Mitt Romney,' current frontrunner for the presidential election for the Republican leader. These ties aren't fake, you idiot. No offense.
This is the second video. Notice how it follows an eerily similar chemistry to the first video, but with conveniently spooky music? That's because they learned that the author of the original Wyoming Incident wasn't even real. It was something creating binaural beats and strange arrays of videos and images with software uploaded on an unknown operating system of the time...
Be aware that the strange noise that appears at the epitomizing "third" part are all binaural noises created from the source, which created the binaural noise you hear at the beginning and into the second image. These binaural noises are insanely frightening and I would strongly suggest not listening intently to what these 'noises' are. They aren't noises. They aren't even real.
DO NOT LISTEN TO THESE NOISES ON THE THIRD PARTS.

The 'full*' series (* missing the real part "2" which is called Wyoming Incident 1.5)
The whole "invert" is a joke to bypass YouTube; there is a message in it while inverted which is lost and is not completely kept in the video JonRev has on YouTube (that's this particular video's "mirror"). I understand the skepticism, because there is no real "owner" of the series.
They've been dead for 10 years. There is clear cut evidence but due to concerns for the paranormal and delving into a 4th dimensional state, I cannot safely guarantee this source is readily identifiable. Just know that there is a very powerful force at work behind -any- work of "strange" literature. This is a ghost of nonexistance, and can take any form. Including yours.