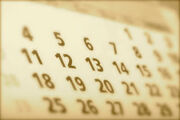 Everyday I would mark something on the calendar and my mother would also write things down on it to remind her of the upcoming events that would take place in the distant future like doctor appointments or school assignments or anything that was important to note down. My mom used a blue pen to write on it and my mother never used any other, because blue was her favorite color.
When I was eating my bowl of cereal at the counter my mother marked a day that was beyond the day when she marked it, flipping a few pages to July 13th. She caped the pen and saw that I had a play date with a friend a few blocks away. Me and my friend would play video games and do other things to keep us occupied.
I ate all of my cereal and left for my friend's house. After the day I brought my tired body inside of the kitchen and took some juice out of the fridge.
When I closed the fridge with my free hand I noticed something from the calendar that stood out from all of the bland colors.
I dropped the juice and saw what was written in some sort of red ink that was dripping from where it was written on this day
'Dispose of the body. Go after the precious son at 5 p.m.'
I quickly noticed and almost vomited at the rich stench of rust that filled the air when a gust of wind came from my mother's room along with footsteps that approached the door and I saw a shadow peering out of the gap under the door.
I heard the knob jiggle and turn as the world slowed when the door opened slightly.