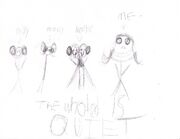 I have always smiled, and will always smile. But now I have no choice but to smile.
I'm old enough but...Mommy said that I need to laugh more. I know I do, yet I cannot. Whenever she laughs, I can only smile back. Mommy told me that daddy laughed a lot but I just shook my head and smiled. Mommy knew that something was wrong with me but I understood her, so how can that be? Well, mommy did move her mouth a lot yet never smiled. But I did."
I can't help but feel.....When mommy's mouth moved a lot, it was funny, but mommy got mad. It was like she was trying to smile but couldn't, but I can. Mommy tried to make me know what she was doing with that silly little mouth, but I only knew that it couldn't smile. She never understood why I always knew what she was saying, even though her mouth kept on moving in funny ways. Yet I can't scream, I never will. But I can smile."
Brother was there...When mommy told me that I shouldn't be yet her mouth never moved. She must've stopped trying to smile. I always understood her because the world is silent. But out of the silence brother speaks to me telling me what I must know. But I cannot laugh, only smile."
Throughout life....Brother talks to me out of the silence once more telling me what mommy cannot tell herself. They speak to me but I cannot hear. They talk to me, but I cannot know. I smile, yet I cannot laugh."
For eternity....Brother is all I have, they speak to me when I have not been spoken to. My mommy cannot laugh but she has finally smiled. She was so happy in fact she smiled all the way down. She then laying on the floor fell asleep, smiling to herself while this happened."
But my mommy will see once more my smile, they spoke once more etching onto my face their mark. Their pride.
---
Written by The Blank Slate
Content is available under CC BY-SA