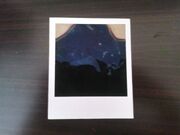 I don't know about you, but I always liked instant cameras. They had this form of memorabilia that no other form of media had. Well, I decided to buy myself a Polaroid Impulse camera. At the time, I truly thought it was a nice investment, although the film was expensive.
Nowadays, a company named "Impossible Project" creates film for these type of cameras, and is also a guarantee that it works. Of course, on eBay, the more antique, expired films are also up for sale, but at extremely high prices.
With the extra money I had from work and allowance, I was able to buy an "Impossible Project" and an expired twin pack, for a fairly good price. To tell you the truth, I now regret buying the expired film.
The Impossible filmed worked perfectly, so perfectly that I was able to go through a whole pack within a month. At this point, I had to start on the first pack of the expired film. On my mom's day off work; I decided to take the first photo of my mom. At this point, there were no signs of color fading, smearing, or other defects of any kind. Just as a precaution, I put the film inside the box where it contained the other pack, then I went outside.
Around the time I came home, it was dusk, and a perfect temperature to take out the film. What I saw nearly dropped me on the floor. It was my mother, in the most gruesome image I have ever seen. Her face was torn apart, she was grabbing the skin of her face in her left hand. Her legs were abused, and showing hints of bone here and there. Her shirt, ripped apart and showing organs that seemed to be falling to the floor, and hanging freely.
I couldn't handle it, I couldn't understand how a simple photo of my mom smiling innocently, distorted into this. These weren't any positions the original developing film was turning into. I started sobbing, and cut the photo in half. My mom never asked what happened to the photo, even when she did see me crying, and I don't plan on telling her anything.
I have nine more films in the pack, nineteen in total. I have not taken a picture ever since. I don't plan to, and surely not to buy anymore expired film online anymore.