Talk:The Masked Man
11,903pages on
this wiki
This pasta was actually posted twice...the other one is called James. Which one of these should we keep? This one is actually on categories and stuff, so maybe this one? I wanted to ask first, 'cause I don't wanna suddenly delete someone else's post. Paninis Cupcake 06:14, November 5, 2010 (UTC)
Yeah, sorry you can delete james... I'm new around these parts and i didnt mean to upload it twice, when it told me there was an article under that name already so i renamed it to james, anyway the masked man is the one that should stay i do apologize again for the annoyance, but as i said im still a bit new here and dont know how to delete articles otherwise i would have already.
XanCrews 13:20, November 5, 2010 (UTC)
If you're not thoroughly disturbed, then I'm not doing it right.
Okay, I got rid of it. BTW, you can "delete" an article by deleting all the text and removing it from any categories it was on. Paninis Cupcake 05:09, November 6, 2010 (UTC)
My absolute favorite pasta :)))))))

So it was a like dark and like stormy night right? Mr. Zalgopasta 00:36, July 28, 2011 (UTC)
Can someone please explain the ending?

Idiombomberz 02:43, September 6, 2011 (UTC)idiombomberz
The kid was killed by the monster... and when the father went to check up on the kid what he was was the monster in the kid's bed. All that = nightmare fuel :))))))) Mr.Zalgopasta
Brilliant! Powers1902 12:39, March 13, 2012 (UTC)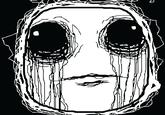 Anyone know if the horrid thing in this delicious dish has been drawn? I'd love to have an image of it. Ya know, for personal reasons. All that you love will be carried away... (talk) 13:25, October 9, 2012 (UTC)