Talk:The Slender Man
11,998pages on
this wiki
This really needs to be rewritten...
Edit
Slender man has inspired multiple, stories, vlogs, forums, artists, and has caused people to become paranoid ans terrified in real life and THIS is the article it gets? I am sorry but NO article can be good after referencing Men In Black, Fantastic Four, and Spiderman. What next? is someone gonna say he jumps in slow motion like Neo from the Matrix? Daniru17 04:39, June 21, 2011 (UTC)
I agree with the above statement.
Edit
I like the mini-gallery (the first pic is awesome), though some pics are blurry... part of SM's charm I guess. Still not good enough an article, considering the entity's fame. Pics are ok, content is not. 5/10

Don't worry, I'm working on a new idea for the site, for all the pasta characters. Bushcraft Medic 19:29, September 28, 2011 (UTC)
I was lurking on Wikipedia and found out that The Rake is recognized as a cryptid but there's no trace of Slendy. That made me feel sad :( Volkoronado 17:04, September 29, 2011 (UTC)
I know Someone Online, who knows Someone Else Online. Someone Else Online claimed to be stalked by Slender Man, and Someone Online eventually believed it, due to Someone Else Online not being the type to make something like this up. But after a little while I heard from Someone Online that they had figured out that the reason Someone Else Online was experiencing these things was from some medication he was on, carbon mioxide poisoning, and hard experiences in his life. All this combined created these hallucinations and lead to this paranoia. Just felt like sharing that story. BlittleMcNilsen 05:18, October 28, 2011 (UTC)
Slender Man is as real as the computer you are typing on. http://theparanormalpastor.blogspot.com/2011/07/slenderman_17.html follow this link. Victor Surge probalby got the idea of Slender Man through his own experiences, and i hate it when you people automatically dismiss something, just because you cant explain it. You always want the easy way out, you dont believe because you dont want to accept that something that hideous, that terriffying exists in our world. go ahead and dont believe, but remember there is more to world than the science that society has been feeding you.
Woodcutting
Edit
I just wanted to point out that the medieval pictures are just depictions of death taking plague victims. It's kind of a mood killer for people who have seen a lot of those and know the history.Grassrunnerdaughter (talk) 02:31, January 19, 2012 (UTC)
yo slenderman, ima letcha finish, but when The NCDA comes knockin' on your door, you are screwed... did you know i'm amazing? 17:44, February 25, 2012 (UTC)
THE SLENDER MAN THEME SONG
Edit
http://www.youtube.com/watch?v=2g97tuhPDGE Mr. Guy 00:24, March 12, 2012 (UTC)
SLENDER MAN HAS A SPASM: http://www.youtube.com/watch?v=ldlWzjKVYsI Mr. Guy 20:40, March 16, 2012 (UTC)
My favourite picture was the guy in the car or tractor thing. But quick question, why would the slenderman be there? I thought he would spend his time stalking children.Mai sentry 03:23, May 26, 2012 (UTC)
SIllY PEOplE
Edit
ThatS ALL yOu KNow?!# SlllY PEOplE ><": MrSlends 21:16, June 26, 2012 (UTC)
Do. Not. SPAMMMM!!!! I wonder if I could saw through my own neck... with this comb. 21:16, June 26, 2012 (UTC)
Needs Updated
Edit
Im sure people could find more stuff to put on here also there are way more pasta links then that, this page in general needs updating OpticalChaos 22:17, July 2, 2012 (UTC)
Contribution
Edit
I have a story to contribute but it appears that my title has already been used. (Not surprising, "The Tall One" is pretty generic.) Should I figure out what to rename mine, or can I just put a "2" on it? Just curious.ZydrateAnatomy (talk) 03:08, August 24, 2012 (UTC)
Ok am i crazy but the slenderman is haunting me yes ik most of yo uthink he's fake...but he's haunting me...beileve me or not but im only here to find out more information...but he is real...
Dorothy9998 (talk) 20:21, March 6, 2013 (UTC)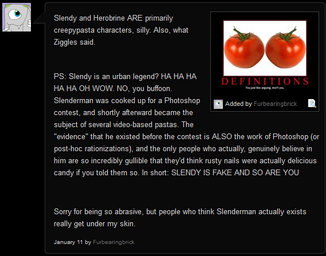 It's called pareidolia, pal. Also, see the image to the right.
A huge battleship FURBEARINGBRICK is approaching fast!
(
talk
) 20:24, March 6, 2013 (UTC)
Thief of Kuk
Edit
I noticed that this article is missing a picture of the Thief of Kuk. Here's one we can use: [1]ThroughTheYears (talk) 21:08, April 30, 2013 (UTC)
Ths is a bit off-topic, but I personally think that the "Theif of Kuk" story is fabricated, probably by the same people at Something Awful. Look at that image you posted, for example. The figure of the Theif is inside a circular thing called a cartouche. Ordinarily, cartouches are where the hieroglyphs representing the name of a Pharaoh are written, not an ideographic figure like the one shown. So chances are it was photoshoped into the hieroglyph by someone who didn't understnad hieroglyphics. StillDeciding (talk) 03:02, May 1, 2013 (UTC)