Slenderman Returns
Talk

3
12,067pages on
this wiki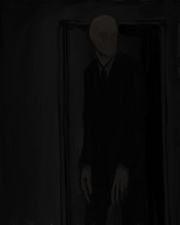 It was a stormy night on August 13th, 2011. Knowing myself, I would look up creepypastas to get a good scare out of myself so I wouldn't sleep. So, I went on the creepypasta website and found something called "Slenderman".
Everything was fine and okay, until my computer started making a very strange sound. Thinking it was just an error from running the computer too long, I turned the computer off. Then back on.
I realized two things, One, my desktop wallpaper was changed to a close up of slenderman. And two, all of my programs were wiped from the computer. Then, about two seconds later, my computer made a defeaning sound along with a flashing picture of slenderman and kids. Then, my computer got a blue screen.
At this point, I was terrified. Not knowing what was going to happen next, I ran downstairs (stupidly) and grabbed a .22 rifle out of the closet. Then, it happened. The power went completely out.
And at this point I was crying. I then heard a faint scream.... As if it's coming towards me. Frustrated. I hit the wall and basically broke one of my knuckles. Stupid me. I then aimed the rifle at the coming door incase of attackers. At this point the scream was getting louder...and louder....and louder..... Then suddenly, it stopped. I grabbed my flashlight and aimed it towards the door.
It was OPENING! IT WAS REALLY OPENING! I started shooting the rifle at the door until I ran out of rounds . Apparently, all of the bullets missed. The door flung open, and came in this very tall man with no face, and he was wearing a suit. Oh my God. IT'S SLENDERMAN! I reloaded the rifle as fast as I could and I shot at him about 3-4 times until he fell to the ground. I thought he was dead. I was wrong.
He quickly got back up and grabbed my arm with one hand, and ripped the rifle out of my other hand with extraordinary force. I was in so much shock that I passed out. I then woke up in my room about two hours later. The clock said 4:00 A.M
"What the heck happened?" I thought to myself. "Was it only a dream? No, it couldn't have been. I have the rifle next to me!"
All the sudden, the same figure that had attacked me earlier had walked into the room. I had no choice but to let him kill me. He walked closer....and closer.... and closer...Then, he came to a stop. He looked towards the window to see the arrival of the police! I'm guessing the neighbors heard my gun shots! He then quickly ran out of the room and out into my backyard. I then grabbed the rifle, checked to see if the bullets were still in it. Yes, there waere! 4 more rounds to shoot at this bastard.
I shot 4 unsuccessful rounds at the man. He then ran into the woods and i never saw him again.