SMILE.pny
Talk

10
11,894pages on
this wiki
The following took place at my house on October 13, 2011
Friday the 13th.
One dark night at 12:00 AM, I got bored and decided to go on my computer. I started it up, and that's when things got creepy.
The Windows logo was dark red and distorted and it said ... under it in red letters. I was horrified. Then, it went straight to my desktop. "That's strange", I thought. "Maybe my computer has a virus." I checked my hard drive. Everything was erased. Everything except one file: SMILE.pny. I hesitantly clicked on it.
It was a video. It was just 52 seconds long. The first 3 seconds of the video was just pitch black, but then I saw a pony. A grey pony with spiky hair the color of blood. Her left ear was torn off completely. She had no eyes and her eye sockets were bleeding. Her legs were covered in scratches. Her stomach was torn open and acid was spilling out of it, along with blood and guts. I got even more terrified when she slowly turned her head to face me. She had a smile stretched all the way to her ears. Her teeth were jagged, sharp, and bloody. When she opened her mouth, all that came out was a loud static sound, but she mouthed the word: 'SMILE'. I tried to X the video out, but it wouldn't let me. The pony opened her mouth once again, but the static sound didn't come out. Instead, she said in a demonic whisper, SMILE FOR ME NOW''''. The video shut off by itself. Horrified, I tried to turn the computer off, but an error message popped up. It said 'I cannot let you turn off this computer'. I started sobbing, but curiosity got the best of me. The error message went off. Then I heard something. Like somebody singing. Or somepony singing. It was the same demonic whisper when that pony said SMILE FOR ME NOW'. It was in the tune of the song Hush Now, Quiet Now.
Hush now, smile now, your life is now behind you
Hush now, smile now, I know that I will find you
'Phew, at least that's over.' I said nervously.
But then, it started another verse.
Hush now, smile now, I know where you live now
Hush now quiet now, now I'm going to find you
Yep. So that's it.
You know what they say, curiosity killed the cat.
Or should I say, curiosity killed me.
'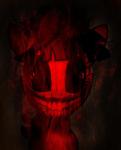 '