Please Follow Me
Comment

1
14,622pages on
this wiki
Just before dawn on March 4th, 2011, Lieutenant Angus McBridle woke up to see Jeff The Killer staring at him at the edge of his bed, kneeling. At first he thought its was a trick of the light, but as his eyes adjusted, no, it was really him. This was really the monster that his squardron had been chasing for months. He looked even uglier than the reports and photos had described him, with his glazed bloodshot eyes, drool coming from his split lips, and oh god, the teeth! He hadn't ever heard of them being so long and pointy. It was like the boy had a mouthful of knitting needles.
He reached for the Glock under his pillow. Jeff laughed. "There is no need for you to draw your weapon, officer. I am unarmed. I'm not here to make you go to sleep. All I want is for you to please follow me."
"Follow you?!"
"Yes. The Master has specially chosen you. I am here to lead you to our home. He will see you there."
Angus couldn't believe it! The idiot was going to lead him right to his hideout. He decided to play along. "Can you at least let me get dressed before we go?"
"Of course. Take all the time you need."
Angus stepped into the bathroom taking the gun and his uniform with him. After showering, shaving (taking care not to shave off the moustache that he was so proud of)  and putting on his clothes, he reached into the pocket of his nightshirt.
Oh god...where was the phone?! That bastard must have taken it. He peered through the door, and sure enough, Jeff was standing right outside, with the shattered remains of the phone in his hand. Angus' heart sank.
"Ah, ah, ah. I anticipated you might try to call your...friends to help you. You must come alone. Those are the rules. Now, finish up. We must go soon."
Angus didn't want to fire at him. He didn't want to provoke him and mess up this chance to pinpoint his base of operations. If he tried anything funny, he could always blow the son-of-a-bitch's brains out. He put on his gun belt, and slipped his firearm into the holster.
"Good, now please follow me. This way."
They walked through the hall. He could see his teenage son Michael asleep in his bed through the doorway of his bedroom. Thank God that madman hadn't harmed him. They went down the stairs, into the living room, and out the door. Angus closed and locked the door behind him.
Jeff led him into the inner-city, and down an alleyway Angus never knew existed, even in all his years on the beat. It was at this point that Angus noticed that Jeff's hair was actually dark brown around the edges. Wasn't it supposed to be jet-black? Was this just some kid playing a cruel joke on him, or had all the descriptions of him been wrong? Or what if...no, that was silly. There was no way there was actually more than one Jeff. At least, he hoped not.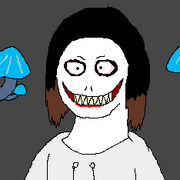 Jeff pushed on a brick on the wall, and Angus could hear gears turning. A trap door, which had been obscured by trash on the ground, opened. They went down a series of stone steps, and the trapdoor closed behind them. The steps seemed to go on forever. At some point, Angus noticed that the lights that lined the walls of the narrow stairwell were actually luminescent fungus. There was more of it the further down they went. Finally, they reached the bottom, and there was a huge, round-topped wooden double-door, like the kind you saw in cartoon dungeons. The doors were flanked by two tall figures in grey robes holding poleaxes. At least, they SEEMED to be grey. With all the blue light from the mushrooms, it was hard to tell. They crossed their axes in front of the doorway.
"Stay here. I will let us through," Jeff said. He reached into the pouch of his hoodie and pulled out a silver medallion. It had some sort of symbol engraved on it, but he turned his back to Angus before he could make out what it was. He approched the robed figures, held up the medallion, and emitted a series of buzzes and clicks. The figures pulled their axes away, and opened the door. Jeff turned back to me, and put the medallion back in his pouch.
"It is safe now. You can go through."
Angus followed Jeff through the doorway, and his jaw dropped at what he saw.
There WAS more than one Jeff. There was WAY more than one Jeff.
The enormous chamber had over a hundred Jeff The Killers standing on either side. They wore different clothes, were different heights, different builds, and a few had different hair colors. Some were even female. But they were all Jeff The Killer. The same white skin, the same sunken, glazed, bloodshot eyes, the same carved grin, the same long greasy hair, the same manic expression. They turned to face him.
"Come on", said the Jeff with brown-edged hair who had led him in, "we musn't keep the Master waiting. This way." Angus did as he was told. He COULD have drawn his gun at this point, but he only had so many bullets. Besides, he needed to know what the hell was going on here.
More Jeffs were at the end of the chamber. They moved to the sides, revealing an alcove. Inside it was a child-sized ornate gilded throne lined with leopard skin that gleamed in the light of the torches, and a minature crystal chandelier. On the throne sat...well, something that shouldn't exist.
It was a creature about 5 or 6 inches long. Its skin was pure white. It had a chubby body, four stubby arms like those of a baby, two equally stubby hindlegs, and a long tail tipped with two shiny black stingers. But its most striking feature was its head. It was approximately the same shape as a human head, with two eyes, and a mouth. But there the similarities ended. The eyes were HUGE, pink, almost perfectly round, and heavy-lidded, and looked almost too big for its face. A thick black circular "mask" surrounded each eye. Its incredibly wide mouth was filled with sharp, shark-like teeth. And its head was topped off with long, black, greasy hair. In short, its face was an even MORE distorted version of Jeff The Killer's. Angus didn't think that was possible, but this little abomination had proven him wrong. It was smiling toothily at him.
"Here is the chosen one, Master," said the Jeff with brown-edged hair, bowing before the wretched creature.
The monster spoke with a surprisingly loud, deep voice. It was the sort of voice that commanded attention and respect. "Excellent, Pedro. Go back to your place." Pedro?! They had different names now?! As if Angus wasn't confused before.
"Yes, Master." "Pedro" walked into the crowd of Jeffs, occupying an empty space near a female Jeff with a short black dress, fishnet stockings and large, triangular green earrings.
"Come closer, McBridle. Don't be scared."
Angus cautiously approached the alcove. "W-what do you want from me?! What's this all about? Is...is this some kind of cult?"
The creature chuckled. "Not exactly. You see, all of these Jeffs are merely my puppets. You see...I am the *REAL* Jeff The Killer."
"YOU?! But you're just...you're so tiny! How?!"
"Heh heh. You'd be surprised. But that's beside the point. I approach you with a proposition."
"What sort of proposition?"
"Me and my servants have been watching you for a long time, Angus. After all, you ARE the officer who arrested my brother. I understand you were just a Seargant then."
"B-b-but...he..."
"SILENCE!!!" the creature shouted in a voice that sounded like thunder rolling through the room. The Jeffs gasped, and the ones with hoodies pulled them over their heads. They all shuddered.
Jeff pressed two fingers to his temples as if he was having a headache, and shut his eyes. "Sorry, sorry. Lost my composure there for a second." He returned his attention to Angus. "Anyway, I was initially planning to have my servants make you...go to sleep, but I have a little problem."
"Problem?"
"Yes. You see, I have assembled a squadron of Jeffs dedicated to defending my underground empire and fending off the armed forces. But I can only maintain mental control over so many of them at once. They need discipline and leadership."
"What are you getting at?"
"I understand that within your squadron, you are considered an excellent leader. My forces need your kind of leadership."
"ME?!"
"Yes. You're the perfect man for the job. You will be a fine leader for my army."
Angus balked. "NO! I won't serve a...a...MONSTER who unleashes serial killers on an unsuspecting populace!"
Jeff smiled. "I'm afraid you don't have much of a choice. You see, I recently found out about your son. He's such a nice boy, so pure and innocent. pity if something were to happen to him..."
"MICHAEL! NO! WHAT ARE YOU GOING TO DO TO HIM?!" Angus tried to bolt forward, but he felt numerous hands holding him back.
Jeff rubbed his tiny hands together, and smiled wider. "I'm just saying that if you don't agree with my proposition, certain...things might happen to him. He might even...go to sleep."
"NOOOO!!! I'LL...I'LL...I'll do what you say."
"I knew you'd see it my way. Jeffs, release him."
The Jeffs let go of Angus, and returned to their places.
"Pedro, come here." The Jeff with brown-edged hair came to the throne. "Yes, Master?"
"Pick me up and place me on his neck."
"As you wish, sir."
Pedro scooped up Jeff and approached Angus.
"Please keep your word. I don't want anything to happen to my son."
"I assure you, my servants shall leave your son alone. And I shall never make him a Jeff or a Drone."
"Drone?"
"It's a special type of Jeff. Something that you will soon become. Steady now, Pedro."
Jeff's stinger was hovering over Angus' neck now. "Don't drop me till I say go. One...two...three...GO!"
Angus couldn't remember the rest of the encounter, besides a sharp sting at the back of his neck. After that he blacked out.
Angus awoke again. This time, he was in a bedroom that was not his own. Had he been dreaming? Had that little creep drugged him and dragged him somewhere else, and had he just hallucinated that crazy shit with the glowing mushrooms and the cave full of Jeffs and the creature on the throne? He started to get up, but then he flopped back down onto the bed. Something about his balance was off. He tried again, and this time he succeeded. Looking down, he noticed his legs weren't legs. They were arms! Stubby, clawed arms! He looked behind him, and...OH GOD! He was a centaur! No wonder he had trouble getting out of the bed. He really had been transformed, just like Jeff said he would.
He heard Jeff's voice inside his head. "Good, you're awake. Sorry for the way you turned out looking; Pedro dropped me at the wrong time."
Angus looked around. "Where are you?"
"Calm down. I am communicating with you via telepathy."
"How come you didn't do that before?"
"I can only do this with Jeffs. Besides, I prefer to save my energy. By the way, you can open and close this connection whenever you please. Now, go outside and greet your troops, Lieutenant Angus. Or should I say, General Angus."
"GENERAL Angus?!"
"Yes indeed. That's your rank now. Oh, I have another line to answer. Talk to you later...he he he."
Angus looked out the window. Outside was an incredibly vast cavern. He didn't think it was possible for any cave to be this big. Directly in his line of vision was a bizarre, towering structure that was shaped like a mutant Coke bottle. It was so tall that he couldn't even see the top of it. And those glowing mushrooms were absolutely everywhere here.
So, this was his empire. If he was really in charge of these creatures, he would rule his kingdom fairly, and with honesty and valor. If he couldn't be a father to his son anymore, at least he could be a father to his troops.
THE END.
---
Written by Furbearingbrick.
This is a "gaiden", or side-story, to the Worm Jeff saga. Here is the "main" series so far:
One Door Closes, Another One Opens