Pillars
Talk

4
11,903pages on
this wiki
There we stood, all around the round table. Well the ones of us whom were left, after the war. Most of us drank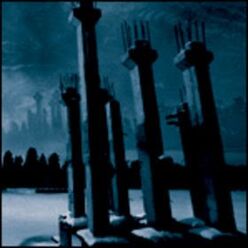 the pain away, some of us couldn't cope with it, and others like myself had found a way. It was myself, Joseph, and Julian. The only three of our troops left, others had been killed or gone crazy from the bloody battlefield. Though, we were raised and taught to be used to this. This was the life of a Spartan of course. War was the only thing we knew now of course, still we just couldn't get used to it.
I myself, just wanted a home and family. I never really wanted part of the war, nor anything to do with it. Joseph has a family, well he used to. They were killed off during the war, their home burned to the ground with his family inside. Julian he used to be blood thirsty, or so he thought until he stepped on to the battlefield. We were successful in defending from the enemy troops and running them off, we killed almost all of them. The battlefield was bloody, corpses were on top of corpses. Their skin and flesh rotting, vultures eating upon their carcass.
This was one of the many images stuck in my head, do you blame me? We sat all three of us around, our goblets in hand. Ready to make a toast, I figure for us being still alive. We were lucky to make it through the war, or the Gods had wanted us to. We drank, we laughed. Hours had passed by, we all had gotten rather tired of just sitting around. So were going to go to bed, sleep and go back to main camp the next morning. I lay in bed that night, usually I myself would fall asleep quickly. Ready to awaken early in the morning, so as if we were ever attacked I could defend. Though it was also paranoia which got to me, I figure.
This night though, I had an unusual feeling. A knot in my stomach, or a lump in my throat you could say. I tried to sleep it off, but as soon as I almost fell into slumber, something just had too happen! Bang! A loud noise echoed from within the dining hall we were just in. Another, and another! All three of us rushed out only adorned in our under garments. The door had been knocked down, laying upon the floor. Nothing was there, no one but ourselves. We all three looked at each other for a few moments until Julian had broke the silence.
"Krieg! Joseph! Check every room in the tower, I will arm myself with a weapon and post guard here."
We simply just nodded our heads, Julian was the head of our division. So we armed ourselves, dressing in armor with a weapon in one hand and a shield in the other. I walked upon the corridors, as did Joseph. He and I both, consumed with fear that it could be an enemy invasion. We checked upon each room, until Joseph had signaled for me to come here. He was peaking his head around the corner into a room, one I had never even been into. He stared deeply, until he walked in. I only approached slowly, though I should of ran in there faster. Before I could follow him in, the door shut quickly.
For the last few moments Joseph lived, you could only hear his terrified screams for help. I couldn't break down the door! He screamed, oh he screamed. It still echoes in my head! After he finally stopped, the door finally shattered. Wood stabbed into my forearm, and broke into pieces all over the floor. There lay Joseph, well I wouldn't say lay really. His body was set on a sharp pike, sticking up from the ground. However it got in there, who would put a pike in a room? The pike itself looked as if it was molded with the concrete, and Josephs was too. I only blinked, after seeing his bloodied and mutilated body. The next moment I looked back, he was a piece of art a statue almost. The pike, or how most would see it as a pillar, had turned him into a statue!
I immediately ran from out of the room, into the main dining hall. My mind was filled with terrible images of all the ways Joseph could have died. How terrible it must of been to see his death before his eyes. I ran to Julian, my voice trembling at the same time I screamed.
"Julian! Joseph has been turned into a statue! Sir, we have to get out of here now!"
"Excuse me, Krieg? Did you say a statue, non s- ,Ahhh!"
Before I knew he had been lifted off into the air by some shadow-like figure. It was enormous with wings and a long devil tail. Once again, another pillar was placed upon the wall. Where did these pillars come from!? The demon stabbed Julian onto the pillar, no it wasn't immediate. He tortured him, slowly pushing him onto it. Blood oozed from his mouth, and the demon clawed into his arms. Then like that they were both gone. The demon, the pillar, and Julian had all disappeared.
Where had they gone to? I turned around, only to see Three Pillars standing the middle of the room. One with the face of a demon, the other two with my comrades sculpted into them. I stepped closer, and closer until I got to the pillar of the demon. I stared into it, the hood which had no facial features. This was until a face had appeared, one just like my own. It laughed almost it had seemed, an echo booming through the room. Everything went black.
I awoke some time around noon the next day, everything was somewhat the same. Though there was only one pillar, no bodies were left behind. Had it all been a horrible dream? I stumbled in, my legs were weak and my stomach in a knot. The pillar had seemed to lure me in, I got closer and a strange aura had surrounded it. My eyes must of been deceiving me. I had looked upon the pillar finally within close range of it. Writing was etched into it, all kinds of writings on it. Languages of which had long been forgotten, but I understood it somehow. It seemed I was this monster all along. The foul demon, I had been fated to this.
I am writing this to the world, still alone in this labyrinth. My sanity has seemed to have been lost, and only I can find it. Though I question if I ever will. Until then I shall remain within this place, all to my own. Facing this demon, conquering the unholy wickedness within me. Writing the scriptures of past upon these walls, etching figures into these pillars.