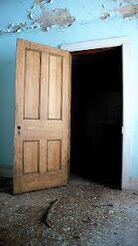 My parents bought their first house back in 1972. It was a fixer-upper, but they decided to move in right away and fix things as time and money permitted.
Within a few days of moving in, the new neighbors came over to introduce themselves. They also let my parents know that the previous owners had moved out after a nasty divorce. They had lost their second baby to SIDS (Sudden Infant Death Syndrome), and their relationship went downhill from there.
My parents were horrified, more so because they were newly pregnant and couldn't imagine going through such a thing.
They eventually pretty much forgot all about it. Life went on. They were in love with their new life and their new house.
In preparation for the baby, they decided to wallpaper the nursery. Now, my dad told my mom that there was no need for wallpapering the inside of the closet, but she insisted. She was kneeling down, scraping off old paint inside of the closet when her eyes fell upon something that made her blood turn to ice.
Written in crayon, at about eye level for a kindergartner, in childish scrawl was: "I KILLED THE BABY."          
---
Credited to eeJayLiz