My Town
Talk

2
11,864pages on
this wiki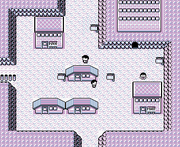 I was playing my PokéMon Yellow one day, which I had recently obtained from a friend as a gift. My all-time favorite place was Lavender Town, due to its purple color. However, I spent so much time there in the game after beating it and catching Mewtwo I was enticed by the music. One day, I was playing it with my team of my Pikachu and Hypno but nothing else; I went into lavender town. It was a big mistake.
All of a sudden it told me Pikachu had fled, and following me instead was my Hypno. I talked to it seeing what would come up. All that came up with a Hypno image with the pendulum swinging back and forth. Five seconds later, my screen went black. I had thought my game had glitched out or something, but it then came back with my sprite lying on the ground with what I think were ropes tied to his arms and legs. the Hypno said like I heard in Hypno's Lullaby years later "little child do not squirm these ropes I know will hold you firm" and I screamed; I pressed the start button form my escape rope but my bag was gone. I panicked and thought to myself, 'what happened? I had like, four escape ropes but realized the Hypno must have used them to tie me up.
I honestly screamed out loud when the Hypno returned and said: "This is then end for you," and next thing I knew my screen went black, I heard a scream, and the screen turns back to lavender town with Oak, my mom, my rival, and basically everyone standing in front of a sign next to the tower. Oak then spoke saying "rest in peace, you a good kid Peter." as I had named my character after my godfather. Soon after everyone walked away and the Hypno appeared saying the last verse of Hypno's Lullaby: "Little child you were not clever, now you'll stay with me forever," then the game cut to black and said game over and a creepy cackleing laugh emitted from my game boy. I soon started over the game and years later 2012 im 14 years old going on 15 and the game is currently dead. I feel like my troubles are over.
Now I worry, what about my Fire Red?