Minecart
Talk

1
12,046pages on
this wiki
Day One
Rainy nights have nothing to do with Minecraft. OK, maybe they do; the boredom as you watch the little droplets roll down your window; the fright as a flash of lightning crafts itself in some far, far land, and seconds later, come the thunder.
But the thing is that as Jonny lay in his room, watching the rain roll down his window, hearing the thunder, and occasionally seeing the lightning, a thought popped into his mind:
Minecraft
, it said.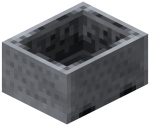 He instantly sat up. What a way to cure his insomnia! He'd never thought of that before.
Jonny got out of his bed, shuffled towards his computer, and sat down.
He booted it up. Reading some Creepypastas recently, he was afraid that the computer was going to kill him or something as it booted up.
Nothing of the sort. His eyes scanned for the Minecraft icon among the sea of files. "I need to clean this up," he thought to himself as a Desktop Wizard icon popped up from the bottom right.
He never did.
But that had nothing to with the fact that his eyes eventually found the Minecraft icon. He double-clicked it, logged in, and was presented with the menu.
That was all easy. Here was the hard part: Multiplayer...or Singleplayer...
Hard choice. Very hard choice. So hard a choice that Jonny actually scratched his head. Hard choice. Hmm.
He didn't feel like playing with other people tonight. So that left one choice.
Singleplayer.
He clicked on the 'Singleplayer' icon. Now came the hardest choice. Create a new world, or play an old one.
He scrolled through the numerous worlds he built. One had a castle in a middle of a forest. Another was an underground shelter built in the desert.
He fancied none of the old worlds. Instead, he wanted a fresh challenge. He created a new world. No settings, just a random new world.
The loading bar filled up. The set of dirt pixels that originally was the loading screen changed to green. The top half of the screen was a mixture of blue and white. The middle was a dull grey, with some black and white.
Jonny blinked.
Right in front of him, lying on the dirt ground, beside a mountain with a waterfall, was a minecart. Jonny checked to see if this was Multiplayer or Singleplayer.
Both his mind and the screen said 'Singleplayer'. Then how, Jonny thought, is there a damn minecart in front of me?
Easy, his mind replied. It's nothing but a glitch.
Jonny's eyes lit up at this thought. A glitch! He'd be famous...for a short while, but still, a glitch!
He quickly pressed F2.
Nothing. No notifications. No nothing. Nothing.
Huh?
Ok, ok, then PrintScreen!
He pressed that, quickly paused the game, went to Word, and pressed Control-V.
Nothing.
He printed the current screen, just to make sure.
Control-V.
In front of him was a freshly-crafted image of his word document.
He quickly went back to Minecraft and pressed PrintScreen.
Control-V.
Nothing.
Another glitch, perhaps? Well, all he needed to do was to write something up on the forums. That'll do the trick.
He went back to the pause screen on Minecraft. Just as he was about to click 'Resume Game', something caught his eye.
The clouds were moving.
Clouds weren't supposed to move during pause screens. Oh, no, they weren't. When Notch said he wanted an open-world game, he got it. When Notch said he wanted a crafting mechanism to expand that open-world game, he got it. When he said to Singleplayer, "The pause screen pauses everything, and the user presses the Escape key to access it,", Singleplayer obeyed, and Notch got what he wanted.
This was Singleplayer.
This wasn't supposed to happen.
Neither was the minecart.
Oh, well, his mind said in a futile effort to calm Jonny down. Glitches happen all the time, and they are the oddest things in life. Oh well.
Jonny took a deep breath. Maybe when he went back to the game, everything would be fine. He tried going back into the game and pressing Escape again.
Same exact thing.
Screw this, Jonny thought, and clicked the 'Exit Game' button.
For some reason, the Exit Game button functioned exactly like the Resume Game button. It took him back to the world.
Jonny knew he couldn't escape this. He wanted to go to sleep now, but this game was running. Slowly, his finger moved towards the button to turn off his computer.
A tall, dark figure could be spotted at the corner of the screen.
Enderman, his mind reassured him
And it was an Enderman, spawned during that fateful minute where Jonny turned from a Minecraft-loving student to a Scared-shitless student.
Luckily there was a cave. And it was walking out of it.
Towards Jonny's crosshair.
Oh damn, his mind said.
He quickly moved his mouse up to the sky.
Where he could see a cloud formation that barely looked like the words 'KEP PLAYINE JONNYY'
Oh damn, his mind said again.
He looked down, barely missing the Enderman, who was calmly walking towards the previously-mentioned waterfall.
It touched it.
It vanished in a puff of purple smoke, landing right beside Jonny.
In his crosshairs.
It shook and shook and it kept looking at Jonny.
That was enough to make him forget the fact that Endermen aren't really hostile during the day, and he turned around and sprinted.
Towards a Creeper.
Oh, damn, his mind said yet again.
In a fit of instinct, Jonny took both hands off his keyboard and mouse, and placed them over the Escape key.
Ka-boom.
The familiar red screen appeared over his normal screen.
The unfamiliar part was the text. It said 'Keep Playing, Jonny'.
And so he did.
He spawned back in his original spot, in front of the minecart.
There was no other choice.
He right-clicked on the minecart.
As if waiting for that fateful click, the minecart sped away, even though there was no track to follow, and no coal to power it.
It went, and went, and went, until it came to a small clearing.
In the clearing, was a hole.
The minecart was going towards the hole.
And so Jonny followed.
What seemed to be like a minute of falling was countered by the fact that they had already fallen, and the ground was dark, and so was everything else in the hole, and thus Jonny's argument wasn't totally invalid.
He slowly looked up.
Above him lay the orange sky of dusk.
Figures, his mind, annoyed by the going-ons of the day (or the past ten minutes), snapped.
Hey, don't blame me, Jonny replied. What would you do?
Fight back, of course, you pussy
Hey, don't blame me. That Enderguy was right in front of me. Plus, where are we anyways?
Jonny looked around, kind of scared that he couldn't get out of this game, kind of angry that he was having a conversation with his mind, and kind of sleepy.
He knew what he would do. There was only one solution.
He'll text his girlfriend.
He left the game running as he scraped his chair across the floor, probably alerting the denizens of the room next to him, but who gives a shit about waking up on a rainy night that's before a big exam?
You forgot your exam, Jonny, his mind said.
Shut up.
OK. Just teasing.
I said 'shut up'.
I knew you did.
Then why don't you shut up?
That seemed to work, and Jonny rummaged through his bag in peace. Eventually, he found his phone. He needed this conversation. He needed to get something off his mind. He didn't just need, he wanted.
And thus his argument wasn't really invalid.
It sort of went like this:
Heyy baby.
Wha u doin at this tyme
nothing Just playing Minecraft
wtf then why u wake me up
Becoz u r mah gf
and whats my name
Tina Jennings
ok so u arent exactly stoned rite
I live alone in my room, remember?
yah yah i remember tell me why u r playing MC
I coudn't sleep
yah yah and you want to come ovr.....?
no no i just need s1 to talk to
yah yah Now get back to the game, Jonny.
What?
You heard me, Jonny.
Tina, you okay?
Get back to your seat. And play the game.
Jonny placed his shaking hand into his bag, and let go of it. Somehow his hand didn't open enough to let the phone drop, and he had to repeat the process again.
He sat down.
He was still shaking.
He shook even more when he saw, in the dark, some red eyes.
He shook and shook and shook, and the table rattled, and so did the window.
The eyes came closer.
Closer.
Closer.
A hissing sound could be heard. And so could a sigh.
Jonny's heart calmed down as he realized that the red eyes belonged to nothing but a spider.
But the calm was short lived, as he saw it coming closer, and closer.
Grabbing hold of his keyboard, Jonny went forward, and hit the spider with his bare fists.
It recoiled, but started for him again.
He stepped back, and beat it with his fists once more.
It jumped back, recoiling from the damage, and the red eyes sank into the ground. Literally.
There was nothing but silence after that. A spider death sound could be heard a few seconds later, but the silence remained.
Jonny looked around him. All he could see was the cave. It hadn't changed during the texting.
Well, a bit.
Etched into the wall, lighted up with torches, were the words 'JONNY KEEP PLAYING'.
Jonny's heart rate increased again.
What should I do? he asked himself.
I think you should keep playing.
And...
Get in the hole. Just get in it.
Jonny knew that meant certain death. But the wall was asking him to keep playing.
And thus he did.
After half a minute or so, Jonny finally reached the ground.
It was full of water.
As his sprite rose up from beneath the surface, he pondered on what he should do next.
That pondering was interrupted by the fact that he could hear groans.
And they were growing louder.
Fuck this, he thought, and reached behind the computer to pull out the plug.
It didn't come off.
It suddenly occurred to him that he could either bravely make his stand and not piss off whoever, or whatever, was running this game, or he could do the exact opposite and die.
He drowned.
At least the spawn worked okay. At least. The thing that wasn't okay was that it was night. And Jonny started surviving late.
He quickly cut down some blocks of wood, crafted a pickaxe, and dug into the nearby mountain.
Luckily it had coal.
He spent the night in a lit shelter, with adequate resources, and fear to accompany him.
He created a plan to kill whatever resided in this world for good.
And he survived the first night of this nightmare brought upon him by a minecart and insomnia.
Day Two
Like a caveman emerging from his cave, Jonny emerged from his.
He wasn't sure of what lay outside his cave, a message? Weird hostile mobs? Herobrine himself?
It was a message.
'PLAY. THE. GAME. JONNY.' it read in big stone letters.
Now, Jonny wasn't unarmed against this opponent. He knew that this was a Singleplayer game, and thus this 'thing' was some kind of bot. Or a hacker. Or maybe it was just 'something'. He thought of the texting.
It was 'something'.
He checked out the message. The blocks were normal. Destructible. Not affected by gravity.
Everything was fine.
But what did this entity want him to play?
He looked around him, and that's when he noticed the hole.
It was reproduced to the finest detail. Every block, everything. No ordinary player could do that in such a small amount of time.
The thing was a thing, and it wanted Jonny to play.
"Okay," Jonny said aloud. "I'll play, you fuck. Do you wanna play? Come here, fucking come here and play. Play! Play!"
He shouted the word over and over again. Until the door opened.
"Hey, hey, John, you okay?"
He spun around and saw his neighbor standing there.
"Uh, yeah, uh...would you come and look at this?"
"Huh," the neighbor remarked, "playing Minecraft on the night before an exam. Niiiice."
He walked over and saw the hole.
Jonny said, "I need help, man, this thing...it just built this ho-"
"Nice hole, bro," he interrupted, and walked towards the door.
Before he closed it, Jonny swore his neighbor whispered the words "Keep playing" under his breath.
Jonny was back in the hole filled with water.
He beat back the zombies using his trusty hands.
He went through more holes.
He fought back more mobs.
And the rain outside stopped.
Day Three
Shit, he thought to himself as he spawned back at his original spot.
Somehow, he spent both the previous day and half of today falling and beating back mobs. Over and over again.
It was going to be a short night.
He quickly retreated back towards his shelter. Before he did, though, he got a few more blocks of wood. Just because he didn't feel like going back into the hole and retrieving his belongings. Which were composed of mostly string, gunpowder, and feathers.
As he blocked up his entrance, a thought popped into his mind.
Why not, he asked himself, dig down and get to the bottom without getting through all the mobs?
Dumbo, his mind retorted, there's the void.
Well, if It can 'avoid the void', can't I, too?
It's worth a try.
He crafted a stone pickaxe, and dug down.
Finally, he reached bedrock.
He took a deep breath, and clicked.
A small crack appeared.
He let out a whooshing sound and continued mining the block.
The block broke open. And below it lay a stone block.
No bedrock?
Makes it easier.
He reached the coordinate that he died on, and dug a bit to the left.
Finally, an opening was revealed.
He dug out an entrance, and entered a room.
Whatever that ran the world above was going to be here, and he knew it.
His train of thought was interrupted by the fact that he didn't see the light on the floor that emitted from the tunnel behind him.
He spun around, and was greeted by a stone wall that wasn't there before. He placed a torch on it.
He spun around again. Wasn't that wall a bit further before? He shrugged it away and began to carve another exit out of this room.
He heard a groan. It wasn't a Zombie's groan, it was sort of a groan, hiss, cry, and a whole mish mash of sounds warped into one.
Jonny slowly turned and faced the shittiest texture a monster could possibly have. But, hey, it's Minecraft. Back to the plot.
Jonny let out a whimper.
The texture looked at him, then gestured at the wall.
Jonny looked behind him. There was another one of those holes.
He turned around, and the texture, which Jonny had now viewed as a relentless Terminator-like killing machine, took one step towards him.
Jonny jumped.
Day Four
He landed in water again, but this time he knew he was close.
He was so close to winning the game.
Outside his window, a ray of orange caught onto the edge of the horizon, and held on.
He resurfaced, and the horribly horrible texture fell down into the hole with him. As if on cue, it resurfaced and said, "Now win it," and charged towards him.
He swam to the side, and hit the texture/killing machine with his wooden sword.
It didn't recoil. Instead, it looked at him and hit him with its horribly textured fist.
Jonny lost half of his health.
He was going to die, and he knew it. All of a sudden, for no reason whatsoever, a thought popped into his mind.
The first ray of sunlight beat back the darkness and pierced through Jonny's dorm window, into his eye.
Jonny really didn't give a shit.
Why not, he asked his mind, attack him from below?!
Do whatever the fuck you want, man, just get me out of this alive.
Jonny agreed.
He went down, looked up, and saw the spinning sprite of the monster above him. Obviously it was just a mob, and obviously it couldn't go under.
He hit it.
The sky turned from orange to not-so-orange-but-more-yellow-instead. It changed from that to yellowish.
He repeated this process over and over again, until the thing finally died.
It was just a mob, though.
Jonny came back up and decided that going up manually was going to take a long time.
And, really, he didn't care about the Golden Heart the monster dropped.
His clock changed its pixels, from 6:55 to 6:56. It lay in wait, and it knew what it needed to do when the time came.
The time was soon.
Jonny respawned back onto the surface.
In front of him was nothing.
He walked back towards his shelter, and crafted a sword for whatever that came next.
It came.
It was a black mass of pixels, seething with darkness, and it was there.
Jonny was ready.
The flowers that a cute girl next door kept opened themselves up to the welcoming sunlight. Next door, a student, fresh from a hangover, began to show the signs of sentience.
The sun kept on rising.
Day Five
Jonny charged, his mind screaming with fear, him screaming with pure hate. He wanted sleep, and he got this instead. What was this madness?
The black mass broke his sword.
Jonny broke the silence with a silent "fuck you".
The black mass knew it was its turn, and charged towards him, a vortex that picked up and destroyed any blocks in its path.
Jonny dug up some dirt and threw the dirt at it.
It didn't work.
He tried beating it with his fists.
Somehow, beating things with fists always work.
It turned red, flew back, and started destroying blocks again.
Beat.
Fly.
Beat.
Fly.
Jonny was vaguely aware that it was shrinking, slowly, and slowly vanishing, until, all of a sudden...
Poof!
Jonny let out a long, long sigh. He looked outside his window, and saw the sun slowly rising from the horizon.
He clicked on the Exit Game button, and it returned him to the main screen.
Before he returned to his desktop, he went back to his Game-Selection screen.
He thought about what this thing was going to do if he didn't delete it. But it was a cool thing to show to his friends.
He shut down his computer, and promptly fell asleep.
In the world, the Thing saw the user quit. It came out of its cave, where it had prepared its original Enderman distraction, and saw what new things had been made during its absence.
It picked up a stone block, and using reflexes that no bot, or no human would be able to reproduce, it built the letter 'W'. Then a 'E'. 'L'. It then wrote the word 'COME' right after the 'WEL'.
It went a few blocks to its right, and wrote 'TO'.
'L'. A pause. Then 'E'. 'VEL'.
'T'.
'W'.
'O'.
It waited for the seed to come again.
Day One
Failing an exam wasn't so bad. In response to the F, his neighbor, a guy named Hayden, offered to play Minecraft with the poor soul.
"It's a deal," Jonny agreed.
Hayden was a smart guy. He never knew what an F felt like.
And thus the game.
Hayden laughed. It was the first time he'd laughed for a long time.He could literally hear the fear in Jonny's voice as Hayden placed the minecart on some rails they'd built.
"Come on, man," he chuckled, "it's just a stupid minecart."
Jonny was breathing heavily from across the table.
"You...why did you place the 'cart there all of a sudden? Watch out, there's a Creeper behind you!"
Hayden turned around and, although he turned around to the best of his ability, he was caught in the explosion.
They laughed even more. Hayden tried to control himself as he sipped his coffee. He moved his hand towards the mouse, and clicked the 'Respawn' button.
He stopped laughing. His house had a bed, and he slept in it a couple of times.
But this was no house he spawned in.
To his right was a mountain with a waterfall, and to his left a forest. A blue sky hung above him, with some clouds. Green grass lay beneath his feet.
And in the middle was a minecart.