Limp Bizkit: The Video Game
Comments

0
14,537pages on
this wiki
AUTHOR'S NOTE: The purpose of the music videos provided is sometimes to provide the proper mood; but it may be not. If that is the case, it is to provide background information on the events in the story.
Chapter One
Hey, what's up guys? Ca$hman here. Been having the weirdest day in the world. You guys probably know the whole story already.
I was at GameStop trying to get a copy of Assassin's Creed V. I walked up to the counter and asked them about it, and they acted like the game had never come out. I tried to explain to them what I was trying to find. "You know the one, where Desmond's Assassin is named Andreas and he is in the middle of World War II?" I knew this was right, because you had Altair during the crusade, you had Ezio in the renaissance (three times, sheesh) you had Connor in the Revolutionary war, you had John Jacob Jingle Himer Schmidt in the Civil War, and now there's Andreas in World War II. Right? But they still had no ideas what I was talking about.
So I left the counter and looked for some cheap used games. I looked at the GameCube section. They had about fifty million copies of Super Mario Sunshine, equally as many Luigi's Mansions – in fact, one of them was really weird. Now that I think about it, I think blood was running down Luigi's mustache on one copy. No matter, I already have a copy of that game. Looking through the shelves, I saw the weirdest thing in the world. It was a GameCube game. Now, if that wasn't weird enough, it was a game I thought never existed.
Limp Bizkit: The Video Game. I was stunned. My 2nd favorite band (#1 is Metallica) and nobody ever told me there was a video game? Where were all the sexual innuendos that would come with a release like this? Was this a rip-off of Guitar Hero or…Hell, I don't know what. It was priced at $14 even, in big red letters written with marker. I was confused, but I thought it would be fun. I picked the thing off the shelf and looked closer at the cover. It was just a picture of Fred Durst on stage, with Wes Borland in the lower right corner…actually, now that I think about it, I think Snoop Dogg was somewhere too. But I can't remember exactly where. The letters that said "LIMP BIZKIT: THE VIDEO GAME" were bold and white, bland but not boring. Intimidating.
I paid for the game and drove home. Got on my couch, grabbed a Mtn. Dew, plugged in my GameCube and started up the game. I looked on the back of the cover and it said "©2001" in the bottom. "That makes sense." I said to myself. "Chocolate Starfish came out the year before. That's the one that made him famous…maybe there's a super-secret bonus level that's a wrestling match between Tom Cruise and The Undertaker." I even thought to myself "Hey, Fred's been in a game before, hasn't he? Yeah, he was in that one SmackDown game. I had that one."
I looked up to watch all the pre-roll logos, and to my surprise the GameCube was powered off. I could have sworn I turned it on, but I guess I didn't. I ejected the disc just to make sure it was playable. I rechecked whether or not the cables were in the wall. I put everything together, pressed power, saw the orange bit light up, and the game was going. Looks like it was developed by Ubisoft. How ironic, eh? Like it was destined to be that way.
There were the usual logos (companies that helped in soundtrack and engines and whatever.) It started with a background of photographs from live events, and cut-outs of each band member becoming visible one at a time. You'd here "Fred Durst, Wes Borland, DJ Lethal," those names, as they said them, and their cut-out would shake. You had Take a Look Around in the background, which signaled that this WAS going to have something to do with Mission Impossible II.
There were four options. STORY, MULTIPLAYER, EVENT and BOILER. Story, I would guess, would just be like career mode in Guitar Hero. Then again, I didn't actually get any accessory…so was I just going to play it with a GameCube controller? Remind me to think. Maybe it was a different kind of game. Multiplayer I thought, if it was a
"play the song" type of game, would be you vs. another person. Event would just be play any song you wanted to.
BOILER was the one that struck me. I knew the Boiler music video. It was…weird…as ass. Fuckin' worms in his cheeseburger and whores that are really robots and anorexic aliens doing The Wall or something. I figured I'd check it out later. I had no idea what it would be. Maybe it's…umm…something. I dunno. Probably a way to unlock everything faster, if you had to unlock stuff.
Let's give story mode a shot.
Chapter Two
I was right to some effect. The story mode does chronicle Limp Bizkit on tour.
In fact, it talks about a very specific, real life tour. The Anger Management Tour they did with Papa Roach and Eminem. I remember the story. Fred Durst cancelled half the shows because his throat hurt, DJ Lethal backed Everlast in that interview on MTV. Eminem got really pissed and did a diss on one of his albums…Jesus Christ, which album was it? It was one of the two with D12…dammit all, can't remember. Doesn't matter, I don't like Eminem that much anyways. There's more to the story, but, it really doesn't matter. Point is Limp Bizkit and Eminem don't like each other and honestly I'm fine with that.
So it starts off backstage. The graphics look decent for a GameCube game in 2001. The first thing that came to my mind was Enter the Matrix. It's like that game except the human models aren't chunky; they're actually kind of smooth. Fred Durst's hat isn't hovering above his head, although it sort of looks pasted onto his forehead.
The first shot of the story is him in the back, wearing his jersey and his red hat and pretty much everything you would expect. He's tying his sneakers while sitting on a stool. You can vaguely here Rollin' playing in the background. Loving the soundtrack so far. Fred Durst yells "YO, SHADY!" to the right side of the room. Kinda surprised he used Marshall's nickname instead of his real name. They're backstage, so you'd think it would be more shoot style…or maybe you're not supposed to suspend your disbelief in this game. It IS a Limp Bizkit game, there's gonna be a bunch of sort of ironic humor.
Fred didn't wait for a response. He walked to the right (my right) and opened a big, cold gray door. The room beyond it was dark and lonely. Something about that room just didn't feel right. I mean, if it was like, a closet, that would be fine. But it looked like another locker room, and you could barely make out somebody lying on the floor. There was even FOG in it.
If this was supposed to be one of Fred's jokes, I don't get it. Maybe he's secretly a fan of old monster movies. That would make me happy. Fred then says "He must be heading on stage." At this point the camera stopped following Fred. He turned back, walked off screen, and to the stage. The camera stayed in place and focused on the room. The body lying on the floor woke up, moved barely, breathed a very cold breath, and then fell down again. The motion froze, and then a loading screen came up.
The loading screen was Wes Borland and Jerry Horton having a stare down. This was starting to confuse me. Why wouldn't the cover of the game have Eminem and Papa Roach too? It had Snoop Dogg, who I haven't even seen yet, but didn't feature any of the main story characters, and believe you me these two personalities would make the game SELL. I'm all for promoting Limp Bizkit and not Eminem but there is a point where I wonder if some companies know they're trying to make money. The other half the time I wonder if some companies know that money isn't everything, that a long term investment is ideal. But whatever. That's unrelated.
The loading screen ends, and you get to "choose your character." There was Fred Durst, Wes Borland, DJ Lethal, John Otto, and Sam Rivers. And there was one more figure, but it was a black silhouette with a large white question mark. The label said "BOILER." I figured you unlocked the character through Boiler mode. My best guess was that it was either Snoop Dogg or Mike Smith – the guy who replaced Wes Borland for Results May Vary. As much as I'm a fan of everybody on there (except for Lethal, he pisses me off sometimes) I chose Wes Borland. I like him the best. He's like if you combined Buckethead and Marilyn Manson and made him more human.
You get on stage with a perfect yet…extremely strange way to open a Limp Bizkit game. Eminem and Fred Durst start doing a rendition of
N 2 Gether Now
, with Eminem doing Method Man's lines. It was surreal, man…Method Man and Eminem are not nearly the same, for a lack of a better expression. Could you imagine fake white boy doing the lines of chill old black man? That would be like if Dave Mustaine was part of Metallica. COMPLETELY different styles.
But they did it, and playing as Wes Borland…I had absolutely nothing to do. Remind me to read the instruction booklet next time. So I just watched two computer generated rappers do a song that I'm not even a huge fan of while DJ Lethal did the turntables. Me, Sam Rivers and John Otto just kind of relaxed in the background. It wasn't boring because of the surreal atmosphere. How is Eminem doing Method Man's lines? How did I not know this existed?....Does it exist?
…What kind of a stupid question is that?
A little bit before the 2 minute mark, Eminem pulled out two katanas out of a duo-sheath he apparently had on his back the whole time. (Remind me to watch for details.) I was still on the edge like I'd been since I was at GameStop so I got scared to Hell at first. I actually considered hiding behind the couch…oiy vey. Then I remembered this was part of the N 2 Gether Now music video. You know the one, with the Neptunes beat?
Eminem started shredding falling pizzas out of the sky, and I started to realize THIS was the gameplay element. It was a timing mini-game. So now I was really pissed that Wes Borland had nothing to do. It wasn't because the song didn't have a guitar – it was because the game expects people to always play as Durst or Eminem…but if that's true, why didn't the game let you choose Eminem as a character?
Eminem kept dancing to the right of the screen, and he got dangerously close to some of the band members. Durst ducked, Otto blocked with his drumsticks, but Lethal wasn't so lucky. Eminem missed him, but his arm did get cut open real bad and the turn tables part of the song suddenly cut out. Strange…that would be a LOT of in-house recording if they were gonna program that with every instrument. I'm having a hard time believing there was this much production put into the game…and how the Hell did they get Eminem to agree to this anyways?...Or maybe they didn't, and that's why nobody's heard of this game. Yeah, that makes sense. They used his image without his permission and they got sued up the ass. Sounds stupid but it's my best guess.
When Slim Shady got too close to Wes, a quicktime event showed up – yeah, that's right. A quicktime event in a 2001 game. It told me to "PRESS X TO SAVE" in a flash. I pressed X, just barely making it, if it weren't for how odd this game was I wouldn't have been on my toes so much. Wes Borland made two wooden rabbits appear in front of the katanas. From thin air, yes. It's from the Break Stuff music video. Sort of.
The katanas bounced back when they hit the rabbits and Eminem was momentarily stunned. Eminem got really pissed at this, and attempted to strike again, but I had the instinct to press X and ducked under the katanas. I then ran to the front edge of the stage. Wes looked like he was pissed at Eminem, his eyes were red and they were about to fight. But then the camera zoomed out slowly, and by out I mean far out. It got a really nice angle of the entire arena from the sky, at about a 20 degree angle. I was still in the process of realizing how awesome the graphics were for 2001 GameCube.
Then I heard the noise. At first, it sounded like a super-fast building of a million miscellaneous bugs about to burst through the television set. My mind slowly transformed what I was hearing into what it actually was. Helicopters. Massive helicopters that look like they could actually kill Godzilla – and not the wussified American version either. They were giant and black. The windows looked like they were full of stars.
They invaded the coliseum that our two hip-hop stars were playing in – curse open roofed arenas. The entire audience screamed in panic as the helicopters opened fire. Tons of the audience was getting shot, blood was going everywhere and you could see heads rolling like bowling balls in twenty five lanes. I had no idea what was going on, but my adrenaline pumped beyond imagination. Eminem dashed with his katanas, jumped up like Bruce Lee with a rocket up his ass and slashed one of the helicopter's engines, causing a massive explosion. I didn't see him land.
Fred Durst, Lethal, and the rest of Limp Bizkit aside from I followed suit. I was watching for a few moments until I realized I was still in control of Wes Borland. I also realized the camera was now from a first person view of Wes. I dashed towards a helicopter, but I missed the landing skids. Everybody else seemed to be able to grab them, I must have just been too late. I – or Wes Borland, whichever – fell down twenty feet and landed on a pile of bodies. There was a ton of fire rising from the coliseum, like at the end of a Die Hard movie or something.
Seemed like there was still one helicopter left, and the band was still trying to defeat it. No Eminem to be seen yet. This last helicopter – the final boss of the stage, you could say - was huge, three times the size of the other ones, and appeared to have a god damn cannon on its bottom. It shot a ball at DJ Lethal and crushed his bones, blood started coming out of his teeth – not the gum, the teeth. You don't want to know how disgusting that was.
That's when John Otto lifted Fred Durst straight in the air and Fred Durst flew like there was no gravity. Fred Durst grabbed the landing skids, but before I could see what he did to the helicopter, I looked to Wes's side as I felt someone grab my arm…let me rewrite that. I looked to Wes's side because something had grabbed my arm. It's the weirdest thing. I knew it was in the video game, but something had latched onto my arm in real life. I felt it. Later, when I was in bed, and realized what exactly I felt, I screamed so hard the neighbor's dog's chiropractor could hear it.
I saw yet another cannon character in the Limp Bizkit…fandom, would you say? Somebody related to The Bizkit. Christina Aguilera, of all people in the world, was barely holding my – Wes's – arm. I looked at her face, expecting to see that kind of overdone makeup face that she always had. Instead, her eyes were melted. Worse, the goop was floating in her sockets. The mouth was an empty abyss no teeth or gums or anything. You could see the cheek bones snapped in half earlier and they bulged out of her face. Her body was a wrecked anorexic mess; you could see her entire skeleton through the shell of skin. She screamed so loud I had to turn the volume down on the TV to five (and this is a TV that plays average volume at 30.) In a shriek I could only call that of a innocent demon burning in Hell, she screamed "BOIL ME!!! HELP ME, WES, BOIL ME!!!!! KILL ME!!!! I WANT TO DIE!!!"
The screen dissolved to red, and there was a giant shriek so high pitched a bat could hear it from 10 miles away. Yet somehow I could hear it too, and I was going deft. It felt like I was getting the sharpest pin in the world injected into my brain. I muted the television. What it did was make the experience no less painful…no, it actually made it worse. It turned it into just as loud a scream of low-tone static from the television, and the red screen started to bubble. This scream was different. At least the last one, while it might have been rougher, was innocent. This one, while smoother, was the voice of the Devil in the form of Big Brother. It was a large bumbling voice of pure torture. I got up, barely reached the TV, and turned off the screen.
Now I could hear Christina Aguilera again – only, this time, she wasn't screaming. She was being strangled. The red was gone from the TV, so obviously I'm not into THAT kind of territory yet. I felt sad; I didn't want to do what must be done. But I did. I switched the power off on the GameCube, and my heart shattered into a million pieces as I did it. I don't even care for Christina, but I can tell you it's hard to kill somebody who is suffering…I don't even know for sure I killed her, but something was telling me that was exactly what I was doing. Now there were no voices, but the GameCube started shaking and rumbling on my desk. I was a lot more soothed by this, but that's only relative. I was still freaked out of my mind. I crouched down, stumbling and stuttering, and unplugged the GameCube.
I sat down on the couch and thought to myself for what must have been 2 hours, in a still state of paralysis while my heart drummed to the army of a million Spartans. The ideas raced around in my head, so many that I could not begin to list them. I got up again. I ejected the disc. I grabbed the case for the game and opened it. I was scared that anything could change in an instant.
I took the disc out of the GameCube, tried to grab it by the edges, and it slipped out of my hand. That's because it cut the skin of my finger when I did so. I was bleeding a very bright and unnatural red. I looked at the disc, and I realized the art was Fred Durst staring back at me in that one ice blue shot from the My Way video. I bent down, grabbed the disc with my fingers barely, and then flipped it into my palm. I then dropped it into the case, pressed it against the holder, and it was in. I hadn't lost that much blood. It really didn't hurt, honestly, it was just surprising…nah, it hurt. It burned a little actually.
I went back to the couch, sat down, and finished that Mtn. Dew. I looked up to the ceiling and said to myself "we've got two options here. Either the ESRB was just jerking off when they rated this game…or I'm in the middle of a creepypasta." I kept thinking to myself "these are all the signs. This thing must be haunted." I tried to push the thoughts out of my head, but I kept thinking about them. They wouldn't stop. "I've read those stories before. But they're just stories, right?...Ah, fuck it. Let's just say it is a creepypasta situation. Or this game is haunted, or whatever. The biggest mistake those fucktards make in those stories is continuing. I'm gonna get some rest, then wake up tomorrow, trade it in and get another game. Maybe I'll finally get off my ass and play God of War.
Chapter Three
Dreams are weird, ain't they? Especially the nightmares. If Freddy Krueger isn't there, that just means the unexpected is going to happen. And in the world of dreams, the unexpected is EVERYTHING - and then some.
I faded into the world masturbating. I wasn't telling my brain to move my arm up and down around that area, but nonetheless I was masturbating and I could feel it. It was good, and it's hard to admit that sometimes. The world began to register in my head and I could tell I was in the middle of the Boiler music video. I was seeing the stripper undress – who I never consciously thought was so extremely hot anyways – and I knew that she was supposed to explode into a robot anytime now. But she didn't. Not when I expected, anyways. She completely undressed, and we were about to have sex. She jumped on the side of the bed. She then moved in to kiss me…
Then her mouth turned into what I can only describe as a bald rhinoceros from Hell. It had a flat face sure but the fierceness of such a wild beast was present in whatever overtook her. I can describe it no more, because it quickly vanished into an inferno of self-contained lava. Like the stuff was a parasite, quickly overtaking her, but not touching he rest of this reality. I knew, somewhere in the deepest reaches of my mind, that it wasn't really a parasite. She wanted to explode in that volcano. I knew, somewhere in the deepest reaches of my mind, that this wasn't like the music video. Not just because of the awkward choreography – but because she wasn't innocent here. Instead of succumbing to a parasitic robot, she purposefully sacrificed herself into robotic form so that I would die.
I didn't think about it consciously, because this was real life at the time, and I needed to react as if it was so. Before I could react in my sleepy state, the world fell apart and I felt like I was dying but I was still masturbating. The world reformed as outside the building, and I watched the explosion from the music video happen two feet in front of me. Still masturbating. I super imposed Fred Durst into the image I was seeing, and that's when I finally got myself to stop. I didn't want anybody to see me. Except for the whore, who was supposed to see me.
I got up, off the floor, and all of the sudden I felt chased. But I was paralyzed. No…not paralyzed. I could move, but it was a slow, groggy floating. I moved towards the hamburger counter that read "BLACHA MOLE" (I think that's Limp Bizkit in Polish or something.) I knew I should move towards safety, but the temptation of greasy fast food overtook me in my subconscious. I got pulled by two gigantic arms that felt like wet collections of intestines glued together.
I was pulled down to the sewer system from the music video - before, I had thought it would deliver me to safety – now I realize I only thought it was safe because it was "what I was supposed to do." Damn if I wasn't really the anorexic alien that was replaying The Wall. I got took down, and I could barely see the path that Fred Durst takes in the video out of the upper corners of my eyes. Instead of going down in the sewers, I was pulled down further.
I was pulled down into a Hellish landscape filled with bursting volcanoes. Sometimes I wonder what inanimate objects feel like, and at this time this part of my was highly aware of the environment. I figure a volcano must feel like how we feel when we eat too much ice cream, except instead of nice cold ice cream they're ghost chili peppers. I saw the lava was flooding the area to the point where the ocean was lava. The sky was a ghostly gray mixed with red clouds. And the strangest thing of all…Godzilla was there. Godzilla was standing right in front of me, in fact, back turned.
That was when I realized I was in another creepypasta.
The Godzilla creepypasta
. In the dream, my mind made it infinitely more realistic. When I saw where I was, I realized that it was RED who was hugging my arms. Godzilla turned his head, looked into my eyes, and there was a small sparkle in his iris that I can only describe as heavenly. It gave me the power to break free of RED's molesting grip. The words RUN quickly but sluggishly super-imposed on my vision. My reaction was late, but apparently not too late.
I ran faster than I would expect Superman and Flash to run together. And by that, I mean I FUCKING RAN. There was absolutely NOTHING in the world except me, Godzilla giving me power, and death itself. All I could think the entire time was "RUN, MAN, RUN." My thoughts completely obliterated and my legs took over as thinking machines when I heard a roar. It was a gigantic bellowing roar that Lucifer himself could not compete with. But it was rough, it was oddly sticky, it was…HOLY CRAP. It was the roar from the GAME. The one after I muted the television.
I ran so damn fast that the world I had dreamt up became a blur, and RED was out of sight. I saw a wall. It was an invisible, in-game wall. I had become so trained to video games I understood what an invisible wall looked like. I thought it was the end; I slowed down a little so I could catch my breath before I died a slow and molesting death. But I couldn't slow my pace enough to avoid the wall, and I fell down. I realized the invisible wall was only an illusion. It's so confusing trying to explain this, but that's what it was like. I thought it was an invisible wall and it didn't even exist. I then fell down a giant black abyss off a cliff, RED looking downwards and envious of my freedom as I fell. It was in this moment that RED became human…but only in this moment…I hoped…for my own sake.
I woke up in a cold sweat. It was pure daylight outside; the clock said 1:30 P.M. But dammit all if it didn't feel like I woke up in a reality with no time. I looked around the room, looked at everything that was normal. And that was the problem. I knew everything was as it was. Normal. As it was…yesterday.
I had a long sigh. I scanned the room again, just to make sure nothing had changed. I regained a grip of reality, and I thought to myself. "Let's pick it up and hope I don't die." I got up from the bed, got dressed, made a mental schedule of the day in my head, and opened the door. While I opened the door something happened. It was so fast that it didn't even register in my head immediately. But later, while eating breakfast, I realized what had happened. Christina Aguilera flashed in my head. She was in my dream, and her image barely retained in my head afterwards. Enough for me to see her mentally. She was…the whore? No…no, she wasn't the whore. She couldn't have been the whore. That last image of her in the game meant that she'd never be the whore…
She was the one who was masturbating.
Chapter Four
I opened the case. I looked inside, and Fred Durst was staring at me. Per usual. Nothing had changed, despite my resolutions. Nothing at all.
I pricked the disc out of its holder. Now something had changed. It wasn't cutting me, like it did yesterday. Something told me that the disc – no, someone in the disc – was doing this on purpose. This thing flowed in my body in a brilliant wave of hopeful energy; it was a sense of belonging and company. The loneliness was being invaded in full force. I opened the GameCube, and it did something I didn't expect…but it didn't really surprise me. It started steaming up. I could feel the moist heat flutter across my face, and it was good heat.
But it smelled. It smelled like shit. It smelled like death. Death could only be described as rotting horse fetuses being ground-up in the stomach of a zombified gorilla. But yet there was a force counter-acting it. Some benevolent loving force. Life. Life indescribable. The steam dissipated in our mundane moderation of Earthly life. I placed the disc inside the GameCube. I booted it up, and all the logos appeared like normal. The menu appeared normal for the most part, too. The photographs of Limp Bizkit on stage, except this time I could identify more artists. Snoop Dogg, Eminem, Papa Roach, Christina Aguilera, and…wait, was that James Hetfield? What's he doing here?
The cut-outs of the band flashed on the screen, shook and stayed. Fred and Lethal introduced themselves as normal. Wes Borland showed up, but his cut-out now had his back to me. You heard, "I AM" but his name was cutout of the audio. Then Sam Rivers and John Otto showed up, as normal. An inverted cross was painted across the back of Wes's head, and an anarchy symbol on his back. They weren't in paint, nor blood. It was like…really saucy Kool-Aid or something…it was the stuff they use for blood in movies. The menu was normal, as usual. STORY, MULTIPLAYER, EVENT and BOILER. I wasn't going to go to STORY so quickly. If I was going to fight whatever was hidden inside of this disc, and I was going to do what it DIDN'T think I would do. See if that threw it off its game.
So I pressed the A button on EVENT. It took me to the locker room from the beginning of the game. The camera made the same motions, but Fred wasn't doing anything or saying anything. When it got to the dark room, the body was standing. I couldn't really tell much, the room was so damn dark. But I saw it had long hair. Hair that was so long it went through the floor. Unfortunately, it had its back to me, so that's literally ALL I could see. But something was wrong about this person. She, or he, or whatever, felt like she was slipping. Then there was an option that said "NEXT EVENT" in the upper right hand corner, and it gave the command to press X. I pressed X.
It was the arena where Eminem, Durst and DJ Lethal did
N 2 Gether Now
. But now it was empty of anything living. It was painted with the blood and bodies of the murdered. It kept cutting to different camera angles, just so I could see the mangled and shot up bodies in the audience and on the stage. There were a million flashing lights in the background. It kept going like this for a whole ten minutes. It never got darker; it was just an endless stare of
repetition and realization.
After that whole ten minutes, it faded to black. The words "CONTINUE STORY" appeared in depressing blue that was almost a deep purple. I pressed X, and nothing happened. I pressed A, and nothing happened. I pressed B, nothing happened. I pressed every damn button on the controller, nothing happened. I inserted the controller into every port, pressed every button, nothing happened. I blew on the damn thing. Nothing happened.
I sat down and considered the situation. It wasn't frozen, because…wait, was it frozen? I pressed restart on the GameCube. Nothing happened. Held the power button. The orange light stayed, nothing happened. I sat down, considered all my options, and then my dream flashed back in my head. I looked it, dead in the eye, took off my glasses, tried to act cool, and said "YES" loud and punctuated.
Now there was a loading screen. It was a picture of Jacoby Shaddix screaming to the crowd. There was also a little "DID U KNOW?" blurb at the bottom. It read "Jacoby Shaddix (singer to
Papa Roach
) once welcomed Theodore Bannekertoad – the legendary pilot from Apollo 19 – onto stage." Sounds like something I know. I leaned forward, looked at it through deepest eyes, and said "You must be kidding me, dude. What's next, you're going to pull something from the
Pokémon Black
story?" It must have heard me, like before. Because the next thing that happened was that Jacoby turned to look at me in the still picture. His head moved not gradually like in real life, but by several inches at a time, until his head was screwed on backwards like an owl.
His eyes glared with the vision of a soulless nothing. He opened his mouth, and out crawled a Ghost Pokémon. It floated in the air until the loading screen was done. I can't remember whether or not he transcended outside of the screen, but I do remember I felt in very immediate danger. I realized then that I made a mistake. The game was never going to change duration, I figured. But I got angry at it. I asked for its best because I wanted to beat it at the best. Instead, what was supposed to already be a horrendous building experience might just be going 10x faster. No build, just getting this kind of stuff immediately. At least I'm not burning alive, yet. Which means I may not have set a trigger off. But if I have, I'm screwed worse than I could ever know.
The loading screen died, and another screen loaded up. It gave me the option to "CHOSE YOUR CHARACTER." There were now two silhouettes with question marks. One was in place of Wes Borland. It still read Wes Borland, and it looked like Wes Borland. But when I tried to select it, nothing happened. At first. Then my hands became really sluggish, lagged like in a video game with too much data on screen. I was already being controlled by the monster. And we're only in Chapter Four. I looked at it, straight in the face, and whispered "What do you want?" It gave me no answer. My arms continued to lag. I then looked at it, knowing that I could face the monster no matter how difficult the situation. I told it to "go fuck yourself, because you're not getting what you want."
I chose the other silhouette.
Chapter Five
Chapter three of the in-game story began in a jail cell. Yeah, you guessed right. The one from the Re-Arranged music video. Specifically the one with the Timberland remix.
It was aesthetically the same, except for who was in the cells. Most of the guys were in their cells from the video, but there was an extra cell for Slim Shady. I didn't get a good look at most of the guys at first because I wanted to know where Wes Borland was. It would help me find my footing. Controlling the camera for the first time, I approached what was, in the video, Wes Borland's. Fred Durst was in it. He pushed me away and told me to "fuck off." So I looked at all the other cells, and everybody was in their right cells. When I looked at what was supposed to be Fred's cell, I found Wes.
Wes flinched and flipped his body to the other side. Then looked back and flipped up the peace sign before looking away again. He clearly was as confused as I was. For as disconnected as we were now, I still felt the same with him. There was some sort of bleeding effect in this game. I suspect it's because I chose Wes at the beginning. But something else tells me it's because, of all the members of the band, this is where my heart is strongest. I looked around more, turned to the other side of the room, and looked at Eminem, in his lonely cell. I noticed that the cell wasn't so lonely after all; in fact the whole band of Papa Roach was there.
Thousands of thoughts raced in my mind, connecting the dots and making slightly more sense of the situation. I looked deep into Eminem's face. The left side of his body – front and back – was burnt to a char and tore open. You could see his skeleton in glorious detail, it was out in the open, breathing our own air. There was some muscle you could see, but not much. His eye was still there, and thankfully not melted. His teeth were golden on the melted side, and they were rotting on the side that apparently didn't get burned. That threw me off a little bit. Before I got to notice anything else, Eminem threw me a middle finger and asked who the fuck I was staring at. I stopped looking at anybody and just stared at the ceiling.
I thought to myself "let's see…he's there…they're there…so…who am I?" I realized I must have been the guard. Which meant I had the keys. Either that or I was a visitor, in that case I was doing absolutely nothing until the next thing happened. I might as well do something rather than nothing. The music started to cue in around this time, and it started as just a small, freezing whisper in the wind. But it began to elevate. A piano started up. I knew this music…but I couldn't remember from where. I couldn't think about that right now, I needed to figure out how to get the crew out of here…speaking of which, where was the rest of Shady's gang? Or does he sometimes go alone?
I figured around 2001 he would have been hanging around Dr. Dre and a bunch of other people, but I didn't know who…so I don't know what. He was alone, and I don't know why. I focused myself on getting the keys. I pressed the L button and the R button. I figured maybe they would do actions with the left and right hands. NOPE. Tried Y, tried X, tried A, tried B, tried the C stick and whatever the Hell else is on the GameCube controller. Nothing happened. Then I remembered some of the clichés from other creepypastas…I then tried to tell myself I couldn't be in a creepypasta because those are all fake, right? But seeing all this made me believe more and more that they were real. Dammit, why couldn't something make me believe in Santa Claus? No, of course, it's this crap.
I remembered the old cliché that once you encounter the haunting you can interact with it both through the controller and real life. So I reached into my actual pocket, and grabbed my car keys. I focused my grip on the one that would start the ignition, and moved my character to Wes's cell. I pressed all the buttons again, and they did nothing. I knew what I had to do before I even interacted with the controller. I closed my eyes, put myself in the environment, and said to Wes "you're free to go." I slowly moved the key forward, and I felt it click into the cell. I turned the key, and opened it. I felt a large, strong force tackle me and bring me down to the couch.
I opened my eyes, put the fourth wall between us again, and realized it was just Wes trying to hug me. I told him that I was letting him out on my own whim, not on order. I didn't know how to sneak out, but that's when Shady brought in his own two cents. "Dude, the ventilation is right up there. You could climb up there real easy if you weren't a fatass like yourself." Fuck Eminem, did I mention that yet? Anyways, I saw Wes climb up the cells and into the ventilation. Then something I should have saw coming – but didn't – happened. Everybody went apeshit. The music started to rise in tempo, and I realized what it was. It was The Call of Ktulu by Metallica…on piano. Damn, this game really does know what kind of music I like.
Fred, Lethal, Otto, Rivers, Shady, Jacoby, Jerry, and whoever those other two dudes in Papa Roach are, all started screaming at me. They wanted out. And FAST. I ran over to Fred's cell next. Let him out. He rushed up the ceiling and into the ventilation. He looked back before he left, and his face looked like he felt for me more than he knew. He held his emotions back for reasons I can't understand.
I then let Otto out, then Rivers, then Jacoby. Their journeys were not that noteworthy, other than the fact that they're free. I had a thought to release Shady next, but I wasn't feeling nice towards him now. I ran over to free Jerry and another member of Papa Roach (was gonna save Lethal until the very last) when Eminem got really pissed at me. He started screaming and the side of his face that was torn to pieces was frothing. It was down to three, and one was pissed at me.
I was going to let the pissed one out just to be safe, to make sure he wouldn't kill me. But then he threatened me. "YOU WILL BE DEAD IF I EVER FIND YOU." He said. And he didn't say it as Eminem. He said it with the possession of the Devil. I looked at him; eyebrows tightened, and said "screw yourself, trash." The cell bars bent. The cell bars bent, and Eminem got out of the cell by his own strength.
He attacked me, and I pressed X – something told me it would work – and it didn't. I got punched right across the face. I couldn't feel it in the real world, and at first I was convinced that it was just a lack of full connection to the game. Now I'm not so sure. I remember feel a tightness around my shoulders and a lack of breathing, and now I wonder if that was my connection to Wes in the ventilation shafts.
I moved back, turned to the left and did what would make sense if I was playing Assassin's Creed V like I was supposed to. I held R, A and the control stick as hard as possible. This way I climbed up to the top of the cells on Shady's side. Eminem was climbing after me. I jumped from the cell ceiling and onto the one parallel, barely catching myself. When Eminem leaped after me, I had thrust my own body in my couch chair and that caused my character to tackle Shady.
Shady went flying back and hit the small of his back against the edge of the cell ceiling. He fell down, and I could see the spine falling apart from the side of his body that was torn open. It was like watching the most violent JENGA puzzle on the planet. He was barely breathing, and looked back at me, angry. His eyes glittered like balls of angry fire. He puked on the floor and fell dead in his own regurgitated turds.
The Call of Ktulu stopped and the Timberland remix of Re-Arranged started playing again. So it was me, a member of Papa Roach I couldn't name, DJ Lethal and a dead Eminem. Nice. I jumped down to free the other two dudes, hoping they wouldn't do the same thing to me. I was met, molested and beaten by a couple of indiscernible police officers. They said indiscernible gargle to me in a racist stereotypical New York accent. I presumed this might have been another one of Fred's jokes in designing the game – if he really designed the game – considering he is a self-titled redneck from Jacksonville.
I was thrown into Wes Borland's jail cell, and I realized they had caught me in the act of killing Shady and freeing everybody else. Great. So what already would have gotten me in jail has now been made even worse because they didn't know I was provoked. And in the world of THIS music video, what the Hell could I say in court that would make them believe me? Nothing. Nothing at all. They closed the cell door, and I didn't bother to fight back anymore. I just sat there. Waiting for the trial.
Waiting to drown in the milk.
Chapter Six
When I was dragged into the courtroom, the sun ripped apart my eyes like the scars of a million undead. But even with that strength, I could tell it was dawn. That sun that was ripping my eyes was orange, apocalyptic, and kissing – no, more like fucking – the Earth. I knew this was no longer a GameCube game when I saw that sun. It was real. I looked around the courtroom. I saw that this was the courtroom from the original Re-Arranged music video. As soon as I understood that, the original version of Re-Arranged began to play in the background.
I looked
at the judge. She was old and barely functioning, her eyes yellow with the anxiety of a million years. I was tossed into the defendant's seat. I looked straight into the eyes of the judge, something I could not stop doing. I knew she was not the one from the music video, but that wasn't the most important thing. I knew that, like everything else in this game, she was alive. I knew that she could feel. I was seeing her feel. Somehow her emotions were transcending down into my soul. But she would not let them transcend into her own soul…that is if she had one. She held back her sympathies and continued to exhibit a demonic mercilessness.
I looked at the Jury. They were a clutter of indiscernible blobs, more generic than that created in a simulation game. Their lives clearly had no meaning, and I doubted they even lived inside this plastic shell. And their color…a gruesomely depressing mix of gray and purple…something that still is hard for me to see now. The courtroom went quiet for a long time after that, and I had time to think. I had to think…but I couldn't. I didn't know what to think. In this thinking, or lack thereof, I realized I didn't even know my goal.
I had to defeat the demon, sure. But how? I hadn't even gotten a clue. I read the judge's nameplate. She was The Honorable Judge Taylor. My first thought was the lead singer from Slipknot. Taylor then interrupted my train of thought and called somebody's name to me. "Mr. Smith." She said. I thought to myself, "So am I Mike Smith? Or am I Mr. Smith from the movie?" She continued "please admit you are guilty." I looked at her, confused and un-energetic. I said "No." She looked back and said "fine. Then," as she turned to the plaintiff's seat. "Please bring up your next witness." I looked at the plaintiff. It wasn't a person. It was people. It was a storm of paparazzi.
Wouldn't you know it, here comes the Man. Specifically the Manson. Marilyn Manson. He walks up to the stage slowly.
Re-Arranged
fades out and
Sweet Dreams
starts playing. I wasn't sure if this was cheesy, an extremely cool markout moment, or my immediate demise. Probably a mix of all three when you're looking at death in the face. Judge Taylor said to Manson, "sir, where were you during the alleged incident that took place a week ago?" (
Time has passed this much?)
I thought to myself. Marilyn replied, in his cold and cracked voice that he usually carries, "I don't know, where was I?" Judge Taylor said to him, with a rather glorious amount of sarcasm, "Our official reports showed that you were in Estonia that day."
Manson replied "well, ya know, that's impossible, considering Estonia does not exist." I stood up and firmly shouted "objection, irrelevant!" Judge Taylor, in classic fashion, replied "overruled!" She turned back to Manson and said "Before entering the courtroom you said that you had a relative who died in the incident. Is this true?"
Manson replied, "Yes, it's true. She was a relative of mine. But not that she was related to me, not that she was part of her family. I mean she was a relative that I owned with my own two cents. See, she's actually the relative of this baby – specifically she's his mom – and that baby was the one I smashed in my music video. You know, it's funny, on the plane trip to the studio to film that video you know what I learned? You can't say golden dick three times on an airplane. And then I looked at Jaime and I said I was going to suck out your soul."
Judge Taylor looked infinitely confused before Manson bit into her neck. When he did that, the room became a flashing light-show of blood and tar. The room was flooded with an extremely thick mix, it felt like an ocean of snot. Her skin dissipated and her eyes looked too far into the universe. They melted and dripped very slowly out of her sockets. The worst part was seeing her eyes halfway melted and seeing all the innards of her iris. It looked like the digestive system of a black hole. Her skull cracked and collapsed before melting away into dust of the skeleton. Her flesh, organs and bones melted into the snot flood of blood. I could see intestines with half-digested shits floating in the pool.
A piece of the ceiling fell off and hundreds of gallons of semen spilled into the room, on me before anything else. The jury melted all at the same time, and fused into a puddle of shit in the ocean. It was colorless but plainly visible, it's uselessness the most apparent thing. Manson looked at me, deep in the eye, and said "run. Run now. Wes is waiting to be with you." And when he said it…I didn't hear "waiting." I know that's what he said. But what I felt him say…"Wes is wanting to be with you." I couldn't move for 5 minutes, and that felt like 5 days. But something snapped…no, not snapped. In my mind, a snake finally crawled out of a dry cave in the deserts of Death Valley. It was a slow and painful process, realizing reality.
I started to swim through the ocean that was a mix of blood, shit, tar, semen and people. Lightning began to shake and thunder and roll in the room. It was a blue color of magnificent fury. I barely reached the door before the entire room was full of the stuff. I grabbed the doorknob, and opened the door. When I opened it, I could see the outside. But the liquid did not spill out. It stayed in its room. It was never going to leave it's own fatal form of reality. I swam out of the room, falling seven feet head first onto a slab stair when I got out. The door slammed back by itself and I never saw Marilyn Manson again. I felt like a sledgehammer with a heart on its top was being bashed against my brain. I looked back in front of myself, and at first there was nothing but normality.
I walked into the streets, and onto the island between the two lanes. No cars. The buildings were giant and silver. I put my hands in my pockets. I thought again. That's when I realized I was no longer playing the game – I was in the game. I looked up, and I could see a band of people in a dusty, dark alleyway. There were about six…no, eight. Seven? I walked forward, through the streets - which were not solid, by the way. They were gooey and sticky. I walked to the end of the road, and saw my companions. The three members of Papa Roach I had freed were there. There was also Fred Durst, Otto and Rivers. In the front was Wes Borland. He looked at me, calmly, but sternly. I approached him, expecting to be beaten. Instead, he grasped me. And hugged me.
"John Otto…take him to the Matthew's Bridge."
Chapter Seven
"Hmmm…seven o' clock…bitch raping time."
I love quoting
Predators
. Anyways, me and John Otto got along wonderfully. We drove in in his 80's Cadillac (can't remember the year), listened to Rolling Stones, Guns N' Roses and Led Zeppelin. Not quite what I would expect from the drummer from Limp Bizkit, but I
cannot
complain. Around seven o' clock I think we were on W. Union Street in Jacksonville, but I'm not sure. My sense of geography is highly impaired. Maybe we were on E. Union Street. Or do those two streets merge together? Can't remember exactly. Colorado is right next to California for all
I care. About this time
Black Dog
started playing.
It played right after November Rain. I'm not 100% sure how. Apparently Otto was able to set his car to shuffle between different artists and different albums. It was more intricate than my iPod's shuffle feature. But this is another world. I should expect the oddities…and besides, it was awesome. I got to tell Otto about how this was the first heavy metal song I ever head. Unfortunately I can't remember the moment. Apparently my dad was picking me up from preschool, and he had this song playing. But every time it would "stop and start again" (for lack of better description) I would laugh my ass off. I guess I must have been too used to songs that flowed constantly…that sacrificed art for feeding the noise addiction our society carries…our I was just in preschool, whichever works best.
The Stones
. Paint It Black.
One of my favorite songs. Ever. It came on just then. The drums are amazing in that
song…umm…I think one of the reasons I love this song is because the emotion is so sporadic…you know?...the lyrics are clearly cynical and, , depressing, but the way it sounds is half classic Stones style, and half like…uuugh…a deeper Jewish folk song.
I've felt my mind be like that. Be sporadic in em-m-m-emotion. Rolling around in a pool of roulette, heh heh. Flashing neon lights in my mind, killing my existence. I live while my life dies. I could write a song like that…heh…umm…That's how I see Paint it Black. And, of course, it was during this song of all times where I had to address…had to address…something important. I turned to John Otto, driving his Cadillac, and asked him the question straight up. Not to say I wasn't choking on my own fears while I was doing so. I asked…"who am I?"
He delayed his response, making me wonder if there was going to be a response. He must have been concentrating on driving. My heart danced with the beat of the song. After a long pause, he said back to me "I don't know."
I was shocked. "So you're just picking me up 'cause Wes told you to?"
"Of course I am."
I looked at him, confused, stunned. Kind of felt stabbed in the heart.
"I'm sorry, who was the question?"
"Jesus Christ."
"You're Jesus then."
I just stared into the open night sky, dancing away, trying to distract myself from my own errors.
"Look, brother." John continued. "I don't really know who you are. But I know you're a stranger here. I know that you don't belong here. But Wes thinks you're something special. And even if I don't know it, I know I can't judge it. Wes just knows man. Wes knows."
All this gave me no immediate solution to my quandaries, and I wasn't going to try to find any…well, maybe. Why the fuck not? I'll drop the first question, figure it out later. But there was one more thing I needed to ask him.
"John, who killed everybody that night?"
John Otto slowed down, and paused again. He didn't know. I could already tell. But before we stopped, he said…
"…That's why we're here."
John Otto pulled the Cadillac over and had a slight impact with the bridge's railing. The echo felt like cement cut like Swiss cheese with a chainsaw. He scooted over a little to the left so that I could get out. Not by much though. When I opened the door, it hit the bridge instantly. Getting out of the door was so slow it felt like I was swimming in space. It felt like my stomach was suffocating. After I squeezed out of my little problem, I rushed over to meet John on the other side. He didn't say anything. He was just standing there, right outside the car, looking into my eyes. He became so much more serious. I felt a feeling of dread. I looked at him. He may have suddenly serious, but I knew it wasn't him. He couldn't be. He was still Otto. That feeling of dread…it was here.
Here, where people have committed suicide. Here, what the residents of Jacksonville call Mathews Bridge. I could feel a thick fear rising from the grounds of this land. It crawled on my legs, like piss running backwards. It molested itself into my body. It crawled against my spine. And as I began to recognize it, as I began to familiarize it with knowledge…I sort of…let it in. It infected me much faster. When I started to speculate the origins – ghost, phantoms, deadmen, psychics, witches even – it crawled further. I became to know of its existence, and that allowed access. I could feel it tickle my stomach, attempt to launch the puke out of my body. I could feel it hug me as it killed me, blackened my soul. Raped me.
Once I began to confirm my fears of living dead, my eyes became a melting pot, burning like piss on the hottest summer's day. I was slowly, methodically lifted into the air. There was purpose to all this torture…I hoped. No, I knew there was purpose. I knew deep inside that I was afraid the purpose was malicious…I knew that there was a chance it just wanted to fucking kill me. I knew that somewhere, in that deep dark sky that looked like the entrance to manufactured Hell, that there was some black demon waiting to feast upon my innocence.
He was ready TO FUCK ME…..I rose further. I felt instead of thought. I lived and I died. Orion shined bright in the sky, and I couldn't see it. But I knew it was there because it was the only thing left.. Because it ate…it raped…everything else. IT FUCKED EVERYBODY. FUCKING BASTARD. I AM GOING TO FUCKING KILL YOU. I AM GOING TO FUCKING KILL YOU!!!! YOU GREEDY SON OF A B1TCH, YOU FUCKING SUCKER, SHUT THE FUCK UP YOU CUNT, FUCK YOU!!!
I was crying, screaming at the top of my lungs, shrieking like a baby boy being burned to char. I cried, but the tears landed nowhere. So I stopped. I calmed down. I breathed. I opened my soul to the torture that was going to be with me. And when I opened my soul, when I let the curse of Mathew's Bridge take control of my body…and fuck me…I saw it.
I saw Everything.
X
X
X
X
X
X
X
X
X
X
X
X
X
Chapter Eight
Here's a laboratory, coated with steel melted down from the ocean's salted, thin, slimy, water. Inside this laboratory is a six foot being in a white coat. He's a devilfish, smiling into our existence, slowly, lustfully. He has a head, but it's a fly, and a balloon. It's just about ready to pop. When it pops, the entire world will burn in Hell. He has scissors in his hand. He loves them. They're nice and sharp. He kills children with them.
He takes a sheet. A sheet of cold paper, stinking the room with the stench of sugar more raw than when it's first born. A fetus of a sugar cane. He takes the scissors and cuts the paper. It's cold. It's cut. It will tempt all of us to heat it with our circulation. It's cold. It's cut. It tempts us. But it will also make us cold. Cold and Unforgiven. Cold and Counterfeit.
Here is the Stairway to Heaven, and if it is played backwards you go to Hell. The force of these two worlds tears my body apart. On one side of the tug is a layer of worms and deepest darkest hearts that I know is righteous. On the other side are beautiful, lovely angels, followed by one father who wants to beat us like dogs until we burn in our own pulp. Heaven has no stench, yet blinding light gives me a headache that feels of sharp icicles spinning at lightning speed inside of my brain. Hell is burning my skin, bubbling and soft, oozing down my bones; the only thing unmelted is my uncircumcised penis.
But beyond the surface torture…something feels good. I want to melt. I want to die. Somewhere, deep inside, it is good. I am torn in half between the sides, because I don't trust either of them. I don't trust Hell on the outside and I don't trust Heaven on the inside. My body is brought apart, muscles tearing to shreds, bones cracking and tearing through my soul, eyes ripped into nonexistence, my own damage visible for the last second before I die. Why are they doing this? It's because I don't have Faith in any of them.
I see someone enraged, killing time onstage. He is The Priest. He talks with braces embedded into his lips, but speaks with magnetic powers beyond human understanding. His hypnotic tones are the infecting force of a million deceased demons, their skeletons trapped in a mist of green regret and empty rage. They infect all of us and tell us to do horrible things. All the things being done to them. The Priest tells us that it's okay to kill your brothers. The priest tells us it's okay to rape our sisters.
We don't believe him at first. We don't want to kill our brothers. So we kill the floorboards instead. The most useless thing to kill. But then we realize the truth. It's fun to kill our brothers. We love to murder our best friends. We tear our brothers into deathless papers; their pulp is all that's left. We realize it's fun to fuck our sisters. So we tear off their clothes and tear apart their cunts, and leave them to suffocate and die in the pool of lava we have spilt for them. We did it to break everything. We did it because The Priest told us to Break Stuff.
Millions of people are crying. Millions of people are miserable inside of their imprisonment. Our entire population is kept in check, the same, the worst. We are lowered to the lowest denominator so that it is the only denominator. Even if it is uncommon. We are tried unfairly whenever we are not the lowest common denominator. Because someone tells the punisher to kill us.
Someone tells them that they must kill whoever isn't the same; they must rid themselves of the sinners because they love Jesus. Love Jesus, Lord, love Jesus. They know that Jesus loves them, and Jesus only. Then, they don't really kill the sinners. They kill everybody who hates them back. Because Jesus loves them. So here we are, ladies and gentlemen, if they can find an excuse to hate you, they hate you, and they kill you, ruin everything you've ever done and separate you from everything you love. They Re-Arrange you.
They're all gone. All the people who hate /me/e/us are gone. So we/I am/ are free. We/I'm/ are let free, and we can't take it. We're outside and the sun likes to kill us, boil /us/ our skin down to the insanity of nothing. There is no hiding and we can't take it, our muscles are fried and we have no /life/ skin. We can't understand joy. We hate love. We need you to hate me… 1]]1s[ So we find others to hate us. We can't stand love because love is a change, so we want hate it because we hate the change.
We elect somebody to hate us, but he doesn't really doesn't hate us. So then he hates us later, and we kill him for it. Because /right, right/ he didn't hate us right. Because he wasn't the same. Always. MAKE ME THE SAME!!!!! We stand with our skin removed, eyes boiling in the sun, water flooding our brains and electrifying our mentality. We want to be zombies. We don't care if we're killed. We're dead and that's okay because nothing is okay. We're 2 Gether Now.
Take a Look Around at the world you see. Our brothers sent by The Priest to kill us all. But these are the best. These are the ones who are the best at committing suicide on everybody. Even though The Priest doesn't tell these ones to rape their sisters, they rape all of their sisters, and then they rape my sister too. They rape your sister too. We're all fucked. They go across the world and kill and rape. But somewhere they become real again. They're no longer toys with which the priest uses to kill us all. Instead they start to become human again. And then they kill their brothers, and rape their sisters, and that part of them that is human dies. He shrivels up and spends the rest of their days as a dry raisin, roasting in Hell.
The Priest is standing but nobody is listening anymore. Instead all the brothers are done killing their brothers, and the brothers are done raping their sisters. Instead here are the brothers and the sisters, standing, fire flaming from their hair. Inside the fire is a deep black blob of every emotion they ever felt melted into one collection of human resentment. Everything in that black hole is negativity, and it is encapsulated by the current flaming rage that they feel.
The Priest stands and he sees Hell flashing before him in the form of his own congregation. So the brothers and the sisters and the mothers and the fathers and everybody they know will stand upon the stage and take him down. They first rape his old and tired body, sagging and shaking until his soul is restless and nonexistent. Then they slit his throat with the shit that the priest has thrown back at them, and his body bubbles into Hell with a soul restless and Unforgiven. It is the age of a new Generation.
They looked for one to hate them again, and they found several. They keep Rollin' their ethos around atop the greatest monument that the brothers and sister have ever built. It shines with the colors of the oceans colored to fit our over exposed, over stimulated mentality. It is a deep, pixilated blue, filled with the sexual chemicals that resulted from the tampering of the hatred. It shines with whites and grays that stimulate our need to feel something, but we don't really feel it. The lights make us feel it. They dance with their egos raging from their existence and we worship them, before something comes that kills us all. A massive steal bird crashes into the monument that the ones we worship dance upon, and everybody dies because they loved the people who wanted to kill them.
I can't do this for much longer. This machine is in control of what I see, who I am, and it is showing me these things I never see because I feel them all. I am a blind man forced to look at what makes me need to scream. I can't do that either. So I escaped, and now I'm on a boat. I'm trying to run far away. I'm in the Atlantic Ocean. Steam is melting from the water. Its moisture and heat gives me some sense of welcome. But I remember this steam. It came from the GameCube, this morning. Much as it is loving and welcoming, it is also cursed with the stench of death. So despite my false hopes I am still cursed. But at least I am cursing myself. It never mattered whether I lived or died, just that I was myself and that I was doing it to myself. I need to do it My Way.
I think back to all the shit that happened before. Why did I get that game yesterday?...Damn, I remember why. They didn't have the game I really came for. Is it really that hard to get Assassin's Creed V? So popular, so new. Lazy assholes. It was freaking GameStop too, not some damn local chain. Could've been playing that shit, everything would be normal. But it's my fault too. I know I like Limp Bizkit. That's why I bought it, that's why I played it.
But why did I keep going?...I can't remember but I can tell you why. That damn dream. Where I was Christina Aguilera. The one masturbating. Together as one, we were dragged into the deepest reaches of Hell that my mind could imagine. And we survived. And then I played again. I played because I wanted to save HER. Is she even alive? Where is she?...I played event, story, not multipl---oh crap. I know where she is…she…She's in the Boiler.
She was in the beginning all along. She was the girl in the closet. That beast, her hair long and never ending. That was Christina. Maybe not her body…but her soul. Her soul was trapped in a deep, dark closet, and I was there twice. I couldn't figure it out twice. I couldn't save her twice. I COULDN'T DO ANYTHING. TWICE!!!!
She is dark, raped, shot down by the black helicopters. She is assassinated, but I could bring her soul back to life. At least I think I could….maybe I couldn't. I can't. I won't. But I should. I will. Send my soul to all of humanity's eternal damnation if I didn't want to try. I've been going just for her. Just for the person who can bring me back to life. I'm going to kill whatever is in her, what is trapping her. I don't know who, but I know somebody is going to get Eaten Alive.
I turn this boat around. I put my direction back to Jacksonville. Or…I'm still in Jacksonville. But I want to go back. I want to save her. My body may be in Jacksonville but my soul is abandoning her and I need to stop that. I am still in the hallucination but I don't want to be and that can't happen. I speed this boat fast, breaking sharks in half and leaving no physical form for whatever smaller fish might happen to be venturing off into the Atlantic today.
I am sad but I am venturous, there is a fierce feeling of vengeance Behind Blue Eyes. My mentality becomes a maze of nothings, shredding mentality into unreadable bits of raw existence. Whatever I am seeing I cannot comprehend, but nothing else matters, because I am coming for you Christina. I am coming for you….and me…because we're the same.
There is Mathew's Bridge. I can see it built in my mind, reconstructed for the hallucination that I suffer in Everything…but Why? Why would this…thing…things…I don't know. Who? Why? How? But I know. They are the souls of the damned. The dead who have been pulled into Satan's reach by their own will, stolen by Lucifer himself. This world is haunted by a Hellhound. I need to speak with Otto. What does it all mean? Why am I here? I need to find Christina. She is me, she is you, and she is everybody. She is the power that holds this game from becoming the final destination of damnation. She is nearly dead. Lean on Me, Christina, so that you do not fall. I am coming to rescue you…and then maybe I'll go home. Home Sweet Home.
Home Sweet Home my ass. I ain't ever done. Not yet. Not ever. Because of the last thing I see in that goddamn motherfucking hallucination.
X
X
X
X
X
X
X
X
X
X
Chapter Nine
I'm out of the game.
It feels like I haven't even gotten out of bed. Yet today I find myself behind the wheel of a car I don't even own, a car I never intend of owning. It's disgusting. It feels like it used to be owned by a chain smoker. There is a dark veil of mystery hovering against this mechanical animal, and somehow it is my duty to solve it. Beyond my instincts to run in fear from this feeling of dread, I unwillingly control myself to approach the place where this whole thing started. I approach the parking lot, park, and the car dies organically. I open a healed wound of the beast by opening it's door, and step out to greet the hottest, darkest summer noon I had ever seen. I walk onto the curb, and see that there is a calendar nailed to a pillar holding the shade above my head.
It speaks to me. It yells at me. It tells me that the events of EVERYTHING happened a month ago. Times has passed this much and I haven't even been aware of my actions. Fears of losing my job and dying manifest in my mind, but not to the degree to where they would cause actual fear in this traumatized mind. I walk into the store, and a memory flashes by. It's me, sitting in my living room, playing my GameBoy. I had inserted a copy of Pokémon Red. As you could probably see I took the TV's warning literally. Dumbass. I played the game, did the Missing No. trick, fought him, even caught him. My game crashed harder than an alcoholic monster truck driver…but nothing much else happened. Ah well, I don't play that game much anyways. I'm a Ruby dude.
I can't stop thinking about HIM. Missing No. What did he do? There wasn't even some cryptic clue or feeling of abandonment. Like I expected. Just…the events. It was the worst possible thing that could have happened.
I'm in the store. I see everything like it was. Sort of. The room is foggy, and this black mist is the color of the Grim Reaper's cape, but I don't mind, since that's how everything looks. It must be my perception, not the actual situation…I tell myself. I walk in, and there are kids buying Mario games, and older kids buying older Mario games, and the guys in the middle snagging their own copy of Assassin's Creed V. I want to go back. I want to be innocent again, just play those goddamn games; I don't want to have this duty of saving everybody again. I hate being chosen. Everybody wants to be Superman, but what people don't realize is that Superman doesn't want to be Superman. Superman is Superman because he needs to be Superman. So Superman walks further, limping, with his hand against my face.
The guy at the counter - who looks like he could be Fred Durst's 18 year old brother, laughably enough - looks at me like I'm a drunk and almost gets a fire extinguisher from the back. I open my mouth, barely whisper, and use absolutely all the aggression that Superman could muster on kryptonite. "…shut the fuck ucghk…and…and get the fuck over here, you dirty bastard." He turned back to rush at me, ready to punch me in the face, and Superman dodged by falling down, then quickly threw the Limp Bizkit game on the counter with his dead super strength. I fell down to the floor, and could barely operate. I remember what I said…but you see, not what others heard. I remember what went through my mind as I opened Superman's mouth. "I want to trade this fucker in" I was trying to say, but I don't know. I think I blacked out around here. But I may have mentioned Missing No.
They took me back. I'm in a hot sauna, a perfect cube, sitting on a bench, a bench splintery without splinters and hard without strength. There is a small warm, brown light bulb hanging a million feet in the air, creating Hell's inferno in Heaven's benevolence. It's a week later, I know, because the calendar on the pillar outside yells at me. I refocus. Here is a gathering of bandits. John Otto on the left. The REAL John Otto, on the left. Not the one from the game, on the left. Where's Fred on the right? Where's Fred, I want to know where's Fred, why not on the right? I fail again and pass out, but they slap me out of my drift, these guys want me to know what happens.
There are a couple guys I don't know, but they remind me so much of Men in Black. They don't have those glow sticks though, and I can barely think and am tired and I'm going to die again. Then they talk to me…no, they don't talk to me. They tell me things but they don't open their mouths. I don't even know it if some telekepsychic shit, I just think I know what they want me to know. I could never tell you what they told me, because right after that the man on the left slammed his fist against my face again and I fell down, sleeping, dying, barely able to tell that they shoved something sharp into my arm.
This picture would not go away forever un-end. It just stood there, in my mind, blank and frozen, for what felt like seventy years. I kept expecting some sort of blazing siren to go off, and for it to attack me and eat me and shit me on the ground. But no, it would just stay there, with its arm hanging in the air. Do you have any idea how torturous it is just to sit there, looking at one disturbing picture, locked with nothing but the disturbing realm of your mind? Forever?
With every second there was another reason for me to go to an insane asylum. And forever has a fuckton of seconds. But after…I'd say four hours, something snapped in my head. I finally got it. Like a deus ex machine on TV, I understood everything right then and there. But before I could express myself – if I even could at this point – there was finally motion.
It scared the holy bajeezus out of me, I'm fairly certain I fainted at the sight of this. The quiet stare down had become my life, and here you throw Limp Bizkit on stage. Any disturbance became the most gruesome thing you could ever do to a man, and this wasn't exactly elk dancing around butterflies. The speakers were blazing. After five minutes of living on the edge of a heart attack, I probably became familiarized with the song, to any extent I could. It was Welcome Home, the song they played at the MTV Metallica Icon. Except the tempo had gone super slow, it sounded like a thick goo was being shocked with radioactive lightning.
Slowly, painfully, mutating. That was the thick goo. That was the guitar. Unfortunately the drums were not of note, other than the fact that they were there….and in a way, that adds to the awfulness of it all. Reality was here, reality was the most gruesome thing, in this twisted trip. The base was even more sickening, I don't even want to try to describe it…but I will. Imagine if that thick goo, radioactive now, was numbed with anesthesia. And Fred…Fred singing was something I'll never understand. It sounded like if God was drowned in piss. But yet it sounded happy and benevolent at the same time.
Before long a skull came crashing down in flames.
The view of my mentality went blank in static…
X
X
X
X
X
X
X
X
X
X
X
X
X
X
X
X
X
Chapter Ten
I am as stuck in my own living room physically as I am mentally, stuck in my own life.
So according to episode 2 of the acid trip express, I found…him. Missing No.? Heh? He was the one I was supposed to find, I think. And if he's actually a Number…three would make sense, you know. Having the number 3 in that last "image" and all. But I was expecting some shit like, you know, the origins of Missing No. or something. There's a few Missing No. creepypastas around, but none that actually talk about where the Hell he came from. They all just go with the crowd and assume he is just a famous glitch. Which actually gets pretty funny sometimes, especially that one that puts him in the anime series. Sadly I can't find any story that attempts to explain some sort of weird supernatural origin of Missing No. Huh…could really use some clichés right now.
Well, far as I can tell, missing number is 3. Why 3? Why is 3 missing? What happened that had to do with numbers?...
Suddenly I got this giant cold shiver of regret as I was swirled through a whirlpool of merciless memories. I thought of Matthews Bridge. Enough said there. Then My Generation…but I couldn't stop focusing on the cold, class floor, and in my mind it felt like an Arctic blizzard. Then I thought of the number 8, and the unstoppable thoughts ceased. I immediately went to my computer – thank the good Lord that wasn't haunted either – and I looked up the track listing for Chocolate Starfish and the Hot Dog Flavored Water on Wikipedia. Apparently it's listed in 1001 albums you must listen to before you die. That's awesome. I scrolled down and…I could have sworn My Generation was number 3. I was right. So why can't I stop focusing on eight?
I clicked on the article detailing the single of My Generation, sure I wasn't looking in the right places. Three seems to be a theme here. Between the "missing number" and the song being 3 on CSATHDFW, and now it turns out both discs of the single had three tracks. (That's a single?) I went backwards in chronology to the Break Stuff article, and of course that had 3 tracks too. I felt like something controlling my navigation was trying to tell me something. How important the number three is. But the number eight clearly had a distinct connection with My Generation. It had implanted the images of the Matthew's Bridge acid trip in my head, and now I couldn't stop thinking of EIGHT. I couldn't stop thinking about it. And then I thought of some insane idea.
I looked up the Greatest Hitz album, just on the random chance. And my crazy idea worked. The first vision in the trip was of somebody making fake money. Well of course, how could I be so damn dumb. I thought I was being clever, trying to find all the clichés. That dream was Counterfeit. And the whole priest thing, that had Faith involved in it. The new generation, My Generation. Practically every song on the album had been represented in that dream, and if it wasn't, it sure as Hell was in my afterthoughts. But one. One was missing. One number was missing. One Missing number. 3. Missing No. I launched myself from my chair and bolted into the gaming room. I pressed the on button on the GameCube so damn hard that it collapsed into the system, not to mention the box started flaming.
It flamed in a good way. It flamed from the adrenaline. The GameCube was nearly headbanging. I started mashing buttons fast enough to break my own thumbs from excitement. It's like somebody just poured three gallons of NOS into my brain. The game started up, Ubisoft logos and all, the introduction you've hopefully become familiar with. (With the cardboard cutouts and all.) Story mode had vanished, and Multiplayer was locked from being chosen. The only things you could choose were EVENT and BOILER. I already knew what EVENT was. I didn't care to experience that freaky shit again. I needed to know what BOILER was. I did it. I clicked the a-button down two times, the second time never letting go.. I did it, I pressed the A button. I did it. I selected BOILER. I did it all.
I did it all for the Nookie.
*                                                                               *                                                                                  *
I saw these messages spring to life in big bold, black blood with stale piss colored eyes in the background. I will attempt to recreate them as best I can with my limited resources.
I recognize all of these lines. These titles. Squidward's Suicide, smile.jpg, Man on the Phone (pfffff), Ben Drowned, Slenderman, All Hope is Lost. I feel like The Devil really spoke to me for the first time. He gave me the fullest confirmation that he was behind EVERYTHING. Even if I had pissed in his playground since the beginning of the story, he never let me in as much as this. But that last line…title, I'm presuming. That's some freaky ass shit. If I ever get to tell my story, that's the one line that would sell it to the masses.
Either that, or it could be a reference to something I've never seen before. "Breathe me, I am Russian." Now that's a line. I'll never be able to stop thinking about that one. I can take what I just saw as a victory or a defeat. Yeah I can't stop thinking about but, but now I know The Devil. I am prepared. But the demon on my soldier is telling me I can't think that, because it's not true. What he really did is - The Devil, I mean - he just implanted his intimidation. That's what Jack the Demon tells me. I feel molested. Can't stop focusing on that…wait…
Jack the Devil. Hang on a second…WHAT THE HELL? Is that it? Where's my Suicide Mouse? Where's any Pokémon creepypasta? Hell, you should've even included Jeff the Killer. Or Rake. Holders? NOTHING?!?!? What a freaking rip off. Fuck you, Lucy, I ain't falling for your bullcrap. I am coming at you full throttle, you cheapskate. I'm pressing start and you can't do a damn thing about it. Imma watch your eyes disintegrate, melt into some sort of dry pulp, say goodbye you demon thing. I can't wait to fight you full on. DIE. BY MY HAND. I CREEP ACROSS THE LAND, KILLING SILENT LAMBS.
…What did I just say? I am doing exactly what Jack wants me to do. I'm getting revved up, evil…so it could kill me. Take advantage of me. And if it can't kill me, at least it will have poisoned my soul. Emperor Palptaine would've won. I'm calming myself, but my heart is racing. I don't want to kill but that's the first thing I would do if I saw anybody. Before I can think, I feel a Plot Hole reach into my throat and replace my flesh with fog, I can feel the empty moistness more intimately than I could feel the air of reality. I'm thrusted into the television screen for the final time, and this time I welcome the journey, for either I succeed or die trying, never neither.
I'm falling down a giant black pit, red mist wrapping around the emptiness, gripping nothing tighter than we grip life. Giygas fills my vision, and he speaks to me. He feels like God, but all his intentions are that of Satan. His life withers away but his wrath rules all. I keep waiting to die, but I know that won't happen, so I live on in this second existence. In that, there is a bright light of a fake sun, white and heatless, dead in its lifelong dance. I have been crafted a giant city. Things feel as if they calmed down with no cause. Out of nowhere one would say.
But I know that isn't the case. This game is fucking with me. No time to digest what just happened? Fine. I know exactly where I am. I'm in the Nookie music video, no question.I walk around, trying to find Freddie D or Wes or somebody. Somebody who could get this movement started. I get the bright idea to find the guy who's painting the Significant Other cover at the beginning, but nope. I have absolutely no idea where to go. Barely anywhere to start. Then I see a building, and things snap into place. It feels like it should not be. It has no paint, and it's made of wood, but it's a giant building, and I know exactly what is in that building. I walk – I rush – to that building, and open the door, and I'm damned right.
Chapter Eleven
                                        I don't know who you are but I REALLY WISH you WOULD rape me.
I don't believe what she had to say for a damned second. I walked into the closet at the edge of the backstage area from the beginning of the game. This room is the coldest thing in this world. My bones are sharp icicles piercing through my nerves and my muscles were non-functional, paralyzed, and yet somehow obedient. My teeth are rotten, dead pieces of corn, hanging barely from my jaw, I could pick them out with the pain of a blood drawing. My eyes are giant red balls aflame with chill. Cobwebs wrap around my body, trap me, suffocate me, try to uncoil my clothes, but I fight back with some flaming will that comes from nowhere.
I have all the damned power in the world, but I can only use it so much. Video games, I realize now, are a lot like dreams. If you're inside them, you have as much control as you can get, the only way you'd lose is by giving the authority too much power. In a dream, the authority is the dark side of your mind. In a video game, the authority…is the gamer. In that sense, it's kinda like being in somebody else's dream and yours at the same time. You two have equal power, and can fight and HOLY SHIT.
This room. I can't take it much longer. I'm about to puke my soul and crap my body, I'm so tired, I can't fight much longer. All I damned wanted was just want to save the girl in the closet. I want to save Christina. I fall to my knees and then flat on my face. Nose first into a giant pile of beetle dung. It's living and it crawls into my throat, slimming down my guts, to feast upon my soul. I look up, barely holding on, and I see Christina, chained to the walls, imprisoned in this torture chamber. I use my hands to begin to lift myself up before a giant anvil falls on my back like some damn cartoon.
Half my body doesn't exist anymore. I won't die. My eyeballs are popped out of my socket, but they carry with them my remaining willpower and my remaining sentience. They crawl up Christina's dress. They swiftly, like lightning, ride to the chains that hold the dearest prisoner. They tree to free her but they have no hands. They neither have a mouth, and I pray that they have no need to scream. All that's left is my mentality, and I can only feel that from seventy thousand miles away. I can see Jeff the Killer in front of Christina, put only in projection. Why I can still see without my eyes is beyond me, but frankly I'm alive when an anvil made half my body vanish. I just…I'm stuck.
I could really use one of them Deus ex Machinas right about now.
Speak of the Devil and he shall appear. Wes Borland running in with a guitar that shoots bullets, it's perfect. Way too cheesy to be taken seriously. There's Freddy from behind, and John Otto, and Sam, and…Eminem? And Papa Roach? They're still alive? They're still alive! THEY'RE STILL ALIVE! Next you'll tell me that Marilyn Manson is roaming somewhere around the glades with Twiggy. Oh Godsends, I'll tell you what, Godsends. Now I just need to figure out how to get me back together. Wes Borland shoots the walls, and they're alive, they're fleshy, then they got shot, then they die and wither away.
The walls melt and we're outside, on a giant…giant…gallows. Christina is hanging from the ropes, but everybody else is stable, on the platform, looking upwards at her. She is still alive, now innocent, Jeff the Killer gone from her face. Jack the Devil tells me she still wants to be raped, but I force the thought out of my head. My half remaining body is thrusted forward into the gluttonous, bluish-black sky, broken through a wall, and then I fall back on the platform, my body good as new. It legitimately feels like the DEM that I spoke of. God has sent something to save me. I stand, barely balanced. Everybody else is just staring at Christina, so I must take the initiative.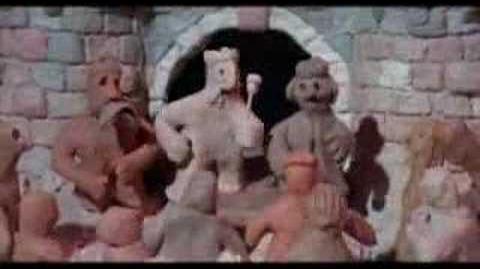 My hand reaches to the pole from which Christina hangs, and it turns into a goey stick of melting clay. It sends flaming butterflies down my spine, and it shows me a dark vision from childhood.
Damned if I don't remember what it has to show me. Somebody, sometime, when I was really little, thought it was just a splendid idea to show me that…doesn't matter much now. I've accomplished my goal. Life is constantly drained from me, it seems. No matter how many dues ex machinas you throw at me, I die again. Life is drained. Life, but not will. Those who will succeed should have their life drained before their will.
I have found myself lying on the wooden planks, with Christina. I can't stand up, I can't even lift my head, but I have enough power to look forward. The grassy green emerald hills predate the largest steel city. Slim Shady steps one pace in front of my face. He looks at me, curiously, wrathless. He bends down, looks into my eyes, and this is not the same Eminem I knew many chapters ago. He is benevolent, helping, loving; he is like he has grown from an older brother to the cool uncle. Or maybe even a father.
He lifts my limping body upon his shoulders, and Freddie Dee lifts Christina's on his. Days pass as we walk across the planted plains of this video game, thoughts racing around in all of our heads, before we arrive at the beginning of the city. There is a legitimately pencil drawn line between the steel and the oil and the grassy plains. I look at Durst, and he seems to know as well as I do that we got to do it for the Nookie.
He attempts to step into the city, but the city doesn't want him in there. Not first, anyways. Fred Durst falls backed, shocked, before I find the initiative to stand. My body is floating in midair, but I can feel the force of my feet dance to the devil's dangerous game. My eyes are raging and flaming, and I step into the city. I shout at God.
Chapter Twelve: MEDLEY
"I CAME INTO THIS WORLD AS A REJECT! Look into these eyes, then you'll see the size of my these flames. Dwelling on the past, you're burning up my brain, but everyone that burns has to learn from the pain. Hey, I think about the day, that GameStop ran away, with my pay, and when I hoped to play. Now I'm stuck with the world that I fucked, and I'm just a sucker, with a voice, in my throat."
I keep singing the song, knowing the lyrics by heart, and it feels like they apply as much to me as they do to anybody else. I'm sure that I altered the lyrics in the speed of the moment, but it was worth it. The burn rages.
"It's kinda saaaaaad I'm the laughing stock of the neighborhood. You would think that I'd be moving on, but I'm a sucker like I said, fucked up in the head NOT! Maybe I just made a mistake, and I should give it a break, my heart will ache, either way. What the Hell, what do you want me to say? I won't lie, that I can't deny."
I look behind me. This will be my army…oh, dammit, scratch that. This IS my army. This is how the music video works. And I'm here. I'm the leader of the millions and millions. The crowd that would usually be behind Fred Durst, leading the fight against…well, nothing…they're behind me now, and they're in the army against The Devil in his home turf. I turn and I see the crew. I turn and I see the Limp. I'm fucking excited and I see Fred Durst, Wes Borland, John Otto, Sam Rivers, DJ Lethal, Mike Smith,they all behind. I dance and I'm looking at the crew that's been behind me the whole time.
Slim Shady, Jacoby Shaddix, Jerry Horton, Tony Palermo, and Tobin Esperence. Eleven people. Twelve including me. You'd think that'd be more than enough for any army. Especially with the strength, with the experience. But NOPE. Wes Borland looks back, raises his arms in the air and waves in his warriors. Out of a space black building on the right comes the members of Wes's part time band Black Light Burns. Nick Annis, Dylan Taylor, Sean Fetterman. DJ Lethal looks back, and waves, and here comes Danny Boy and Everlast. Confidence erupts in me. Then Danny Boy waves and here comes Ill Bill and Slaine. Fred Durst cuffs his hands to his mouth. I would explode if he says what I think he's going to say. He shouts.
"DMX! REDMAN! METHOD MAN! Where da fuq you at?"
And they're out too. And before you knew it, you had this giant 19-man band, bigger than freaking SlipKnot. Fred Durst screams again, scratching his throat. "PLAY THE FUCKING TRACK! PLAY THE FUCKING TRACK!" He can't get nothing to go. I take a look around, cuff my hands against my mouth, and after waiting for the inevitable delay, I yell at DJ Lethal. "LETHAL! PLAY THE MOTHERFUCKING TRACK!" DJ Lethal throws a skateboard in the air and I couldn't be happier. He unleashes the beat and Fred, Method, DMX and Redman just keep Rollin in the Urban Assault Vehicle. Method Man pushes in front of Fred Durst, and takes the lead, of which I happily offer.
"Oh what, y'all thought y'all wasn't gon' see me? Check my, dangerous slang atrocious. When I let these nuts hang, focus, it's Wu Tang. What the fuck's a Hootie and the Blowfish. I wave my Black Flag at the roaches, who approaches, these twin, supersoakers, who have poisonous darts for culprits. Too late to get your blow gun un-holstered. You're left buttered up and lightly toasted. So what, I drink and smoke too much. So what I cuss too much, shut the fuck up!"
Like I hoped he would, Redman takes the lead on the last four words. "Now when we roll, you motherfuckers tuck in your gold 'Cause for the platinum, I'm jackin niggaz up in limos! It ain't nothin, for bullets to unbutton your clothes, description, yellow male, tissue up in his nose. You bitches, swing the vine on the baboon nuts I'm hairy as hell, outta hell and tattoed up I'm a dog only fuck in the bathroom, what? In high school, I dealt only with the classroom sluts."
DMX is about to do his lines when the sunlight explodes in the city of steel. From the top of a seventeen story building with an American flag equally as impressive, there is a somehow less impressive screaming cowboy. He screams his name at the top of his lungs. "Kid Rock." Hell yeah. He's doing Bawitdaba. He leaps down to the ground in front of the crowd and slams down on the road to Hell, singing something I've never heard…his cover of Rollin'. I didn't even know it existed. In my ear I hear a pace coming from an alley-way in the side. I look and I can see three of the four members of KoRn standing down an empty, trashy alley-way, hot and smelly. Kid Rock waves them over, and Jonathon Davis starts singing lyrics of
Twist
. "You're not une-redneck in dat improper reddit nan. Una boom, take dat chica, una boom rat, sack me 'till you're
on top, doctors stop pricking you. Sack me 'till you're on top, pick up a plate, urrrugh, stop that demon, rip out my ma, now new, Rahahack stoppin', rip out me nut, the hinderburg, why u a nazi-sai? Why should it never it end? Wohooha, HITLAH. Rahahahaaa… nada diem, for a while….TWIST."
Kid Rock returns with "A shimmy shimmy cocoa cocoa pu- pu - fucking puffs bitch." Right after he says this, Eminem jump into the lead with The Kid. "It's the K-K-Kid Rock with the K-K-Kid Rock shit. I'm on top bitch and rock for tricks. Hella whips and nips and flip trips for whips, I get all the money pussy falls like rain. Been gettin laid and paid that's why I never complain. If I ain't in it for the money, I'm in it for the P. It's 1998 yo and you still can't fuck with me. Yo Slim Shady, take the lead!"
"Yo tell the world to hold their breath they're breathing the wrong air. This planet belongs to me and all these hippies with long hair. Two white boys who spike punch and light joints. Hang around drugs loud music and like noise. Slim Shady and Brown Trucker another bunch of mother fuckers, who hate the world as much as each other. And I ain't leaving this party tonight Till I see some naked bitches dancing around drunk touching each other."
Wes Borland pushes himself in and says "I beg to differ, Rocky. It's 1998, and you still can't fuck with J.D. and the
Limp KoRn on the Kob." Fred Durst's all like "Say what? Say what?" moves in to the lead with Jonathon Davis and
All in the Family
kicks in. "Too bad I got your beans in my bag. You stuck-up sucka', Korny motherfucka'. Takin' over flows is the Limp Pimp. Need a Bizkit to save this crew from Jon Davis. I'm gonna drop a little east side skill. Ya best step back 'cuz I'm 'a kill, I'm 'a kill. So whatcha thinking Mr. Raggedy man? Doin' all you can to look like Raggedy Ann."
"I'll check you out punk. Yes I know you feel it. You look like one of those dancers from the Hanson video. You little faggot hoe. Please give me some shit to work with 'cuz right now I'm all it kid. Suck my dick kid, like your daddy did."
"SO YOU HATE ME!"
"AND I HATE YOU!"
"You know what? You know what? It's all in the family."
"You're telling me." A voice. The voice belongs to a person. That person jumps into frame and high-fives Wes Borland. Wes picks up a mic and says in an ironically screamo voice "Yo, yo, Scott is in the house!" Fred replies "Yo, yo, what? This your bro." Wes looks at Freddy Dee, and replies with a slightly vengeful, mostly friendly authority: "What do you think, Durst?" Kyle Weeks, Greg Isabelle and Chris Gibbs fall in a pyramid, and Big Dumb Face is complete. The band Wes joined when he left Limp Bizkit back in 2004. "Oh, you think you're so damn cool, bringing an obscure band over here?" Fred takes the clear lead, leaving the rest of this sure-fire army to the back. "Let me show you some people the good people of Jacksonville might actually recognize."
Fred Durst slams his fist down the ground, turning the background black and the foreground a stage with bright yellow show-lights. Here drops in Birdman, Lil' Wayne and Kevin Rudolph. Probably not…ehem…not my favorite collaboration song. But in the heat of the moment anything was fucking awesome.
"Check it, always had big hopes as a kid. Just a rotten tomato building shit out of Legos. Can't hit the ball if you ain't swingin' the bat. And like a home run, that boy is not coming back. Rise like creams, kid with a dream. Went from never seeing straight to the face on a magazine. Now my team got anthems. Y'all frozen, a cold hook from the champion." Me and Kevin Rudolf grab the microphone, even if I'm really not supposed to be here, I can't help it. "Here we are, we are the champions. We've come so far, they said it can't be done. And we right here, and we still number one. Still number one, still number one. So here we are, we are the champions."
"HEY!" we hear from the unlit front. "Before Birdman goes starts hogging the microphone, Fred better be telling me he didn't forget his man-crush."
I recognize that voice.
Fred responds. "You still have Faith?"
"Boy, I
gotta
have Faith!" The stage dissipates along with the blackened background. I can still see our army in the
lighted city of steel. Here, of all surprises, is George Michael. This is getting poppy quickly. "Baby, I know you're asking me to stay. Say please, please, please, don't go away. You say I'm giving you the blues. Maybe. You mean every word you say. Can't help but think of yesterday. And another who tied me down to loverboy rules."
Fred joins in the lyrics from here, still soft, melodic. "Before this river becomes an ocean. Before you throw my heart back on the floor. Oh baby I reconsider my foolish notion. Well I need someone to hold me. But I'll wait for something more. Yes I've got to have faith...."
Nobody jumps. Fred looks out and sings again on his own. "Yes, I've got to have faith…"
I get it.
I jump in and start screaming at the top of my lungs. "YEAH I GOTTA HAVE FAITH!" Four times. Fred offers to do more of the lyrics, but I'm on FIRE, I gotta keep going! "Baby, I know you're askin' me to stay. Say please, please, please don't go away. 'Cause you're givin' me the blues. Maybe, you might mean all the words you say. Can't help but think of yesterday. And another who tied me down to the lover boy blues. Before this river becomes an ocean. Before you pick my heart up off the floor. When our love comes down. Without devotion. Well it takes a strong man baby. But I'm showing you that door. Well I gotta have faith. Gotta have faith!! Gotta have FAITH!!! GOTTA HAVE FAITH!!! GET THE FUCKER!!!" We're in the city and DJ Lethal is going absolutely insane. We've got four stages and a million members of the
crowd, and everybody is going insane as Faith rolls on. I get to sing what I've always, ALWAYS, wanted to sing. Like, life dream. I get to sing……"BLAAAAAAAAAAAAAAAAAAAUUUUGH" Soon as I start choking, I hear a base starting to go "WaaaaaaWa. WaaaaaWa." We should all recognize this. Of
course
we should recognize this. I've felt like shit. I've been treated like shit, even. I'm on the stage with all these mothersfuckers. Wes and John Otto step up, but here comes a singer and a bassist I don't even know. Hope they know about the chainsaw. I jump off of stage and they start singing the most brutal cover of Break Stuff I have ever heard in my life.
We have our fun, and I hear a song from the other stage. I look over to see who it is. And then I say "HOT FUCKING SHIT! I knew the dude was on the cover!" It's the wild animal, Snoop Dogg.
Red Light Green Light
action. "I got the keys baby, put your mind at ease baby, go playa, layin' the cheese baby, I know you bitin', bitin' my steez baby, but I came, came to please baby, don't wait, lay the greeze baby, don't flake, shake the knees baby, your fella's mad at me baby, oh well, enemies baby, who's braggin' they raggin' on me baby? Who's breath is draggin' on me baby? who steps through all agony baby? Who's checks are bigger than me baby? Who thinks before it goes down baby? Who rocks in every town baby? I don't know if it ain't me, must be a clone on this microphone baby."
"Jump in the who ride, slide to the rhythm of Snoop d.o. double g nigga from the dub. I represent it to the fullest everywhere I go, guaranteed to bust a ho, yeah I'm so original. I don't have to, I told you from the get go I like to lay low with my niggas blowin' endo, we like to drink, talk shit and spit at bitches, and that's the way we do it, sometimes we hittin' switches, in the low-rider slidin' to the hood and back, it's Snoop Dogg in the muthafuckin' Cadillac, they call it Snoop Deville for real, I get the money and I never ever pop no pills, I used to pop'em, i'm lyin' to these motherfuckers now, I used to do all kind of shit when I was wild, they used to call me lil' bow wow now i'm big bow wow, in this motherfucka bustin' a freestyle, snoop dogg is in the place to see, do it with my nephew, Freddy d, ooh wee, in the place to see, Snoop d.o. double g from the d.p.g.c."
"Somebody say The Who?" I turn my attention to the third stage. Here's Roger Daltry, Pete Townshed, Doug
Sandom, Kenny Jones and John Entwistle. I think I get it now. They stages rotate. So mine's next. The Who waves Fred Durst over to their stage. He jumps like an anti-gravity superhero. Him and Roger are doing something I've never thought I'd see – collaborating on
Behind Blue Eyes
.
But it's…it's how it maybe should have been done by Limp in the first place. It's a rap remix. "Nobody knows the batman, Nobody knows the Sandman, Nobody knows how it is to be hated, fated, but I know how to body slam. I've never tried telling only lies, it's all in the life of mine that lives these lies. My conscious should be, only lonely, feeling me, never vengeance I am never free. Not until now, right Roger, Roger?"
"Freddy Dee, hold on, Hold On."
I can feel the sun baking my face with a glorious benevolence, I feel like I've done something amazing. Scot Weiland shows up on my stage and him and Fred are singing Hold On. I realize I have no part on the stage I'm on. I feel instantly and insanely tired. Yet renewed. It feels like I woke up. As Fred and Scott start singing their lyrics, I feel like I've woken up again. Yeah, I know why. This song…this is the song after
Boiler
on
Chocolate Starfish
. If
Boiler
was my dream,
Hold On
is perfectly symbolic of where I am right now. Everybody's happy…but everybody's soft at the same time. We are united as a people in this city of steel, a city
that never sleeps. There's not only unity, but finality about it. And this could only be amplified by Fred joining Aaron Lewis in doing
Outside
. It feels like the climax has already been reached, and we're in the soft part where we reflect the story…wait, wait, wait. That can't be. There's still…whoever. The Big Guy. The Final Boss. Right? That's what we've been building too. That's my we got all this adrenaline.….maybe. Man, it would suck if I can't…why?
Why do I hate the possibility that there's no final boss?
Maybe…it's my vengeance. It's the thing that I felt when I saw him spray RED MIST on my TV screen.
But it can't be it. We resolved nothing in this cheesy medley And everybody's happy. Something's wrong. We're left vulnerable.
Things make me only more weirded out (heh heh) when Weird Al starts showing up, doing the Angry White Boy Polka on the other side. Tell ya what, Al. We should all be angry white boys right now. You gonna put me in your damn polka? While Fred Durst isn't singing, Imma pull him over. So I do. I talk to him a little bit. Try to tell him that we're vulnerable. He tells me to shut my damn mouth. I get red in the face. Not just angry at him, but angry at whatever is making him talk like that.
He sees I'm pissed but tells me he's working on it, you've gotta trust me, typical bullshit before their plans actually work. Frustrating. Especially when you know that it won't work. They have no idea what "The Final Boss" is like, Hell I don't know what "The Final Boss" is like. He's just stalling and trying to get as many people in the concert as possible. Yeah, maybe but…whatever. I'm wondering how so many different people got here in the first place. That suspicion makes me go more nuts when I hear somebody yell "Freddy Dee, who's your favorite motherfucker?" I don't even need to recognize the voice to know that's Ben Stiller.
Fred Durst leaves the backstage and starts singing Livin' it Up. Now we're getting more metal. That's better. Maybe
he took what I said to more heart than I thought. And hey,
I
, of all people, need to get pumped up for the fight. Maybe that will mask my confusion. I jump from backstage back into the audience and I'm enjoying the show. "'Cause I don't give a fuck, living life in the fast lane! (Life in the fast lane!) I'm just a crazy motherfucker, not giving a fuck, living it up, in the fast lane! (Life in the fast lane!) I'm just a crazy motherfucker, not giving a fuck, living it up, in the fast lane!" It's after the second reprisal of the chorus that
Xzibit shows up on stage, and they're singing
Getcha Groove On
. "You don't wanna fuck with me today, 'cause a little something something go your way, and try not to be like that today, 'cause I'm a real motherfucker from down the way."
Back beyond the three stages with the millions and millions, the way one would enter that area, I am standing, looking back, attempting to take in the power of this army. Trying to hide my suspicions. I'm amazed and unstable, so I fumble backwards. I submerge into a comforting abyss from dozens of years ago. Memories of mentorship flood into my head. The pure raw emotions of nature's wooden brown wraps itself around me. The pure raw emotions of the company of black invade my perception of reality before it all suddenly shatters into a mass of broken glass. The arena is flooded with beer from the sky; the circuits in the lights and the guitars electrocute and cause a local epic storm.
I run to the front stage fast. I know exactly what's happening and, me of all people, I
should know exactly what's happening. On the first stage are two tall figures standing ominously in front of Limp Bizkit performing one of their most famous songs –
My Way
. One of these tall figures grabs a microphone - he's the one on the left with the tanned skin - and he yells "IF YA SAMEEEEEEEELLLL…What THE ROCK!...Is cooking." You know now that Stone Cold and The Rock are on stage and you know that my confidence grew to the point where I couldn't be skeptical. Stone Cold tells the people to give them a Hell yeah if they're down with Limp Bizkit, and then he refloods the arena with beer.
Two large men in suits approach Fred Durst from behind. They throw him some keys. Fred's eyes light up and he jumps off the stage to run for a red car that I guess was parked here. He crashes through the red car and lands in it with a hefty impact. The red car sinks through the streets. Sinks, or, maybe vanishes would be a better word. In the hole that was left, red blasting flames erupt and the arena is heated to melting infernos of intensity.
Out from this massive pit of insanity rises a tall, nearly seven foot, intimidating blackened figure. He is the phenom. He is The Deadman. He needs no introduction if he can be seen, for he is The Undertaker. He clashes his hands together in a classic downwards arc style, and lightning erupts in the arena. I am filled with the energy. The Undertaker descends to the streets with Fred Durst floating behind him, and up close I can see The Deadman has come to us in his Badass persona. Must I even say what Limp Bizkit played next in the medley? Obviously he just kept Rollin.
Something tells me I can already pinpoint whose next. I step outside of the crowd, or at least I try to. This mass of
humanity seems to be swelling most of the city now. I spot an extremely tall building in the far distance. I dash to the skyscraper and perform a classic Mario style jump. This
is
a video game after all. I land my palms and the souls of my feet to the walls of the building. I stick. I crawl up the building like Spiderman. The ascension seems amazing. It feels accomplishing. And something, something inside, something important, but I can't listen to it, something important, it's telling me, it's something important, something inside is telling me something important, they're telling me that I need to get away to feel that again.
After climbing for what felt like an amazing eternity, I launch myself to the top of the building and jump in the air before I barely grab the ledge. I can see a large black spot on the building, specifically on a window I had climbed, so I let myself fall down. The motion has sent my brain into a blender and my muscles on a yearlong steroid injection marathon. I grab the black speck, enlarged so that I can see it turns out to be a person of the male persuasion. I land perfectly on the ground, only damaging the cement and not my own flesh and blood. The man, who I barely see out of my peripheral vision, runs to the crowd and jumps on the front stage. I hear some familiar notes, and now I can see exactly who it is. Tom Cruise is on the stage, as L.B. begins singing Take a Look Around.
We are near the end of the medley. I can feel it. There's a little quiet spot here while Richard Cheese does his "relaxing" parody of
Break Stuff
. The closer he gets to finishing the song, the more my muscles sacrifice control to the battle and my body prepares. Something huge is coming. Something incredible is upon us. Images flash in my head of dead animals scrambling through the walls of punishment and imprisonment rebelling against the crafting of crap. The hills in my vision rise and the walls of the house explode with a star of raging intensity. Freedom is upon us.
All of the sudden I get it. As soon as I get it, a crack in the Earth explodes itself into existence. The crowd rescues themselves by hiding on the stages, looking on at the opening in the Earth. A whisper from Wes Borland tells me "WELCOME." A blazing, dying clock rages with its last intensity until it STANDS STILL. I can look to the crowd, and they're ready to fight whatever comes. The sky darkens and the Earth turns red. NO ONE LEAVES because NO ONE WILL. We are all KEPT IN THIS CAGE. I look to the sky, THE MOON IS FULL, but COULDN'T CHANGE. I remember the past, and I label thee MENTALLY DERANGED…but I know the beast is something much worse.
The climax of a mystical introduction reaches our existence. Out of the crack in the Earth levitates the unholy, amazing images of four men. In the front is a man nearly seven feet tall, blonde hair curly and long, mustache the one belonging to a hardcore alcoholic. In the back is a small, pudgy man, exaggerated and hyped without the proper strength to carry those emotions. To one side is a man of equal wisdom and brutality, his hair also long and curly, his skin crisped but not fried.
Finally, to the other side is a man huge, a giant, hair long but not curly, straight and black as a raven's feather. He wears a sports jersey like Fred Durst but he could probably rip apart Fred easier than prepared ribs. He is some gigantic strength personified. These four men are legends. These four men are revered. These four men guarantee us our victory. There is nothing stronger than our army with these four finishing us off. These four men are named James Hetfield, Lars Ulrich, Kirk Hammett and Robert Trujo. These four men are named METALLICA.
"SANITARIUM!....LEAVE ME BE!....SANITARIUM!....JUST LEAVE ME ALONE!....SANITARIUM!...
Just leave me alone...fear of living on. Natives getting restless now. Mutiny in the air. Got some death to do. Mirror stares back hard. Kill, it's such a friendly word. Seems the only way...of reaching out again."
I'm on top of the world. There is a rising platform of stone out of the ground. There is a carved path circling around the core, and each of our army stands on the edge of the mountain. We fill a hundred feet, we are strong and proud. Musical Spartans. At the top stands Limp Bizkit with me somehow allowed in the center. Somehow I am the hero…somehow…no, I know I am the hero. I came here to save them. I can save them.
But still…I'm just me. I just wanted to save Christina. Me and her and Fred and Wes and John and Sam and Lethal and Smith stand at the top of the mountain with Metallica standing on the platform directly below us, with Kid Rock, KoRn, The Who, Stone Cold, The Rock, The Undertaker, Staind, Eminem, Papa Roach, Method Man, DMX, Redman, Kevin Rudolf, Birdman, Lil' Wayne, Snoop Dogg, GODDAMN EVERYBODY, standing on our order, on the edge of our own mountain…FOR FREEDOM. I hold Christina Aguilera close to me. She is out of it. I don't know…she might not even be herself…she might be…
I look to the moon. It turns into a red pool of useless warning. Everything is wrong. The world turns into a coded mess of pixels and tentacles. Innocence is gone. Misery invades our consciousness. Everybody turns against me. Nobody is left without their mind controlled. A magnetic force of persuasion brings every flesh and blood body into a colossal digital artifact, bleeding from the eyes and mutating from the back. This beast of sin leaves only one alive. Me…me…
Me…and the one who was masturbating.
The Final Boss
I should have known. Of course it wasn't The Devil. The Devil was far too obvious. The Devil isn't even really the most evil thing in existence. The Devil is a messenger. Lucifer is a deliverer. Satan is just a means of transportation. Pretty damn good but no cigar. Easily, undoubtedly, the most evil thing in the world must be that which is being delivered. The Devil may tell one to sin, to sell, to lose their soul. Satan may bring rape and murder to mass appeal. Lucifer could do the work of the ultimate evil.
But no evil is as ultimate as evil itself. No sinner could possibly outdo the malice of a being who is, in himself, or herself, or itself, pure sin. For ZALGO is that sin. ZALGO is that being. A rapist can take away all innocence and leave only hate for your world, but why use a human when the emotion itself could do the task?
ZALGO is what I fight now. ZALGO has gorged over my entire army. My hatred, my vengeance, my adrenaline and my love for equality have created a monster. I wanted to fight the ram and instead I now collide with an immortal wildebeest of which I never knew existed. The entity in front of me I cannot describe to the fullest extent. My memory is corrupted, like everything it invades. My memory is corrupted because ZALGO CAME. The Apocalypse IS NOW. I face my own inner demons infected with those of which I wished to fight, personified with those who I idolized and the connections to whom I idolized, personified with the people who helped me find a way to defeat this personification.
Now I do not know if I can go through with the plan of which we all have set forth. Me and Christina lie in a black pool of hatred and cruel humor. Red velvet composed of rotting corpses and the blood of a million virgin children circle around this blanket of eternity as I look into the eye of evil. Blue veins pump through his piss colored eye, the piss colored eye I remember seeing recently ago. He stares at me with pure confidence in his ability to molest. I have no choice but to go forth, he knows this as well as I, and THAT IS WHY ZALGO SMILES.
I take a step and I crush an entire village of rotting human organs. My will is vaporized from my body. I think I retract that will back but I don't know, the darkness overtakes me and thought is not a thing anymore. I take another step forward and the world is crushed under my foot, that foot only meaning to do well. I can feel all the lost lives scream from pain and hate me and THEY HATE ME FUCKING HELP ME! THE EARTH IS EXPLODING UNDER MY FOOT AND ALL I WANT TO DO IS TO DIE!!!!!....God is gone. God is disconnected from my existence forever. This is Hell.
I take another step and the sun explodes with the touch of my shoe, the heat burns my flesh instantly and my hairs melt into my empty eye sockets. There's an inferno of lava torturing my soul and the most unholy pain is ravaging through my body. The excruciating pain thirsts for more and I step again. When I step this time I don't step upon anything living. Instead I am forced to trip and my skull shatters against the floor of rotting flesh, puke explodes out of my mouth faster than a waterfall in fast motion. My eye sockets, holding the melted hairs, now have regurgitated digital artifacts flowing out of their eye sockets and I cannot begin to describe myself right now. I reach farther with my arm and I am pulled into a dark tunnel of vision I will never revisit.
(sexwillywonkafuckingrapehelpmemommyidontwanttodiepleaseeatmesoidonthavetodieinfrontofmymommy)
The tunnel runs away with me in it at millions and millions of light years, laughing at my inability to handle it, the invisible visions become worse and worse until I black out in death for hours and hours. I wake up and the ride is still going and I can't stop this fucking train I know I can't move but I'm running with no feet and I'm going to die. I fall down the tunnel and I fall for millions and millions of years until I reach the floor with an unimaginably painful thud. I try to rise from my own ashes and I only rise as my own ashes. ZALGO, he is barely closer.
My ashes step again, and something happens, but I don't know what happens I know exactly what happens he died they all died but I can't tell you because I don't want to tell you because I need to not tell you because I want to die right now and if I die then she will die and that's the ultimate failure is to die. I can't see but I must look I can't hear but I must listen I can't touch but I must feel I cannot breath but I must speak. My zombified ash form runs closer. It seems a miracle that I cannot acknowledge all of the dead that I have set aflame. I am no longer human. I am a beast of malice and destruction; I have been overtaken by which I try to destroy. The universe explodes around me, all because I want to fucking live.
ZALGO. He seems horrified. Good. I want him to know he will die. But my confidence runs out. My ashes flake to the floor. I will never get my wish because ZALGO knows that he cannot die. ZALGO can only kill, ZALGO has taken everybody that I had come to love in recent days and turned them into emotional shits. I am an emotional shit. I am a dust rabbit dying in the wind, my flesh and blood body left long ago in favor of vengeance and malice. Isn't that what got me here in the first place? It is a vicious cycle of unsolvable emotions.
I recognize my own faults and I want to give up, but if I give up I kill everybody, but if I keep going then everybody becomes ZALGO. What is better? I try to open my eyes and only succeed in speeding the process of flaking my ashes to the ground. I am a mere hill walking towards an erupting volcano. I am the weakest man alive because I am at the hands of ZALGO. I walk closer and kill more, walk closer and kill more, and I do not know what to do. I get the odd feeling I'm not getting any of those Deus ex Machinas that I relied on before.
….I understand.
My strength flows through me like an ocean of power and change. I levitate from my ashes and come in the form of a flying phoenix, touching nothing innocent with my flaming wings. My true form is realized. I am the bird of fire, beckoned by this nonexistent society to come and be the man who redeems the entire population. I feel oddly feminine, I feel wonderfully powerful, I feel like I cannot be defeated. But then I look at ZALGO once again.
I know I can be defeated. I am not God. But I am PHOENIX. And unlike the man you once knew before, The PHOENIX knows that a dream is perception, and no matter what emotions invade it, you can always fight back. Lose I might, I could always fight back. Not the other man, not your friends, I AM. There is no stopping this probable suicide mission; I feel the power flowing through my veins which I now know are completely temporary.
I soar in the sky of black misery and red death; I shoot for the heart of ZALGO. The flames exploded in a nuclear colossus, the core of this blast of fire amazing and bright. I can feel the heat flame through us, half a blood colored fire that poisons, with the other a sun colored fire that loves us all. My perfectly black and white eyes meet with ZALGO's piss poisoned balls that hide to serve his visions.
Our wills collide and everything spirals out of control. The laws of physics change as fast as the potential results of roulette, our forms change a million times before we fight over control of the universe. God and The Devil watch and wish that they could be us, fighting the final battle of good and evil. PHOENIX vs. ZALGO. Ladies and gentlemen this World Heavyweight Championship fight appears to be the biggest in the history of this great sport we call life! PHOENIX throws a right punch of righteousness while ZALGO counters with a left shot of bloody destruction.
All of existence transforms into a storm of black and white bars, bringing our consciousness to an imminent end. Before the process can be complete, I fall into ZALGO, flames exploding; suicide coming apart, until the entire universe breaks and all of the world is broken. I look at ZALGO, and the ZALGO looks at PHOENIX, I am PHOENIX and I will never know who is ZALGO because ZALGO is not a person but rather all evil emotions as one. We look at each other. We remember the stories told of the wolf of hatred and the wolf of love fighting inside all of us. We feed our wolves. We die. We agree that only one can live, and we both know that we can break our promises,
* * *
FIVE DAYS LATER.
Hello. You haven't met me before. I am nobody of importance, aside from this last bit of tale. I walk downstairs to the basement of my house. I peer into the room with the television and the movie players and all the technology the kids are into these days. I walk weakly into this room. I look at the coffee table. It's frankly a mess. There's a puddle of Mtn. Dew from the can lying on the wood that looks like it were a dozen chapters old. There's a copy of a video game. I can only read the side, and it says "AC5." This doesn't interest me much. What interests me is the couch behind the coffee table. There is a young man sleeping on this couch, stuck in a very long, extended sleep, some sort of coma I suppose. I wanted to bring him to the hospital but the doctors told me he'd be…able to hold his own.
In a coma. How interesting modern science works. I lie another blanket, this one blue, on top of the quilt I already had for him in his sleep. The television is on silent static, like it has been for a while. One of his gameboxes or whatever they're called is in the trash can. That's because it exploded. I got him a brand new one, this one's orange! I didn't know they sold his gameboxes in orange. He should be happy if he ever sees this world again. I look at the coffee table again. I snatch two important tickets from the table and put them on top of a bookshelf for safe keeping, for they were about to be drenched in soda. I kiss the sleeping boy on the cheek. I look outside the window, and there's that curious girl.
That curious girl slips into the room, like she does now. She looks so distraught, her clothes torn, her body wrecked, but yet she seems to be perfectly fine on her own. Or at least she claims. She says nothing to me when she slips into the basement from the outside. She simply snatches one of the tickets to read the details. She then sits on the floor and falls asleep. She looks happy. A smile grows across her face. She rests soundly. She reaches into her pants, and I leave her be. But I still can see…I can see that they are happy. I have the other ticket in my hand. I look at it.
Egypt…what a place!
THE END.
Written by I, Da Cashman