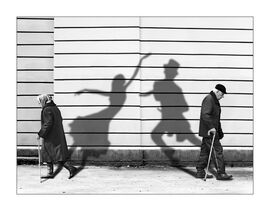 Have you ever seen the shadows dance?
You probably haven't. It takes the right kind of person, and you can't just be born that way.
It takes effort.
It takes time.
It's not easy.
You have to live to see them.
Not breath, in, out, in, out, no. Not even be perfectly kind. Nor be truly perfect. Those people will never see the shadows dance.
In order to be the right kind of person, you have to see from another persons view. Walk a mile in another man's shoes. Be kind and gentle.
Be cruel and brutal. Survive and kill. Suffer and cause suffering. Save a life. Be saved yourself.
Live. Love. Be loved. Lie. Be lied to. Break a heart. Have your heart broken. Experience true terror, and true relief.
Shatter your life.
Pick up the pieces.
By the time this is done, you'll be old and grey. Don't feel bad about this. No one is going to get there and still be young.
Go out onto your porch, probably with your partner and kids if you have them.
And watch the shadows dance.