Google Maps 3D
Comments

16
14,392pages on
this wiki
On December 10, 2011, an anonymous user on 4chan's /x/ board posted a thread which told simple instructions to a location on Google Maps. The address lead to a a residential home in Nancy Lorraine France. Using the 3D feature of Google Maps, the image shown to the right could be seen. Debates were made on what the being shown in the image could be. One accepted answer was that it was merely a surfboard holder. However, during the debate, Google Images censored the being, which lead to the question: Why would Google censor it unless it was something in which they wanted to keep hidden?
Identification of the being is currently unknown, however research and controversy remains active.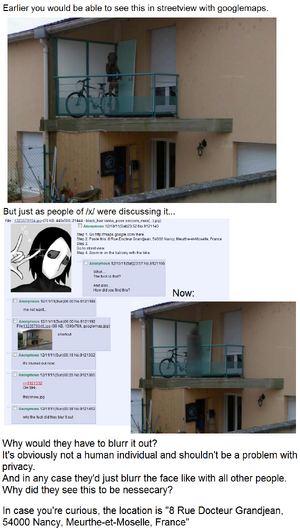 UPDATE: The user Mistfire333 was looking around the location of the odd creature. When he started clicking around the street for another angle to see it from, he noticed an odd apparation in the window under the tree on the opposite house's lawn looking in the direction of the balcony monster. It appears to look like some sort of rotting, pale obese man and in some instances it appears to look at the viewer as well. I personally got all teary and uneasy looking at it and I'm getting teary as I write about this thing too. The ima
ge is below.