Dream Eater: The Beginning
Talk

4
12,046pages on
this wiki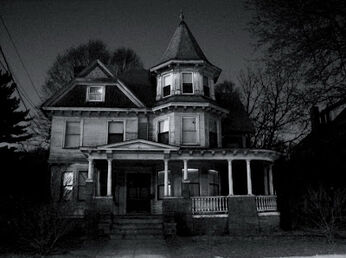 There I was, in the road, alone in the dark.. just waiting. You may be asking what happened. I mean, waiting for what? Why on the road?
Well, this is what happened.
It was a normal night, quiet and tranquil. I was on my way to a friend's house. I had recently read a lot of Creepypastas, and thus that night my mind was filled with their tales, and the antagonists, sometimes the protagonists, of those tales. Needless to say, I shivered at every dark corner I saw while walking to my friend's house. I tried my best not to think about them. Oh, I forgot- there is a so said 'haunted' house that is just across my house and that night when I was going out I noticed something, there was someone or ... something (It was of a white color and had a humanoid form.) It was in the stairs just staring at me, I got closer but it just vanished, I thought it was just my imagination and of all Creepypastas I had read so I just continued to go.
When I arrived to my friend's house I told him what happened and as usual he just laughed and challenged me to go inside the house the next time I saw something like that. He offers these kinds of dares all the time, and, frankly, I was annoyed by them. And this was the perfect time to say 'yes' to a dare that didn't involve pissing off an old man or kissing a girl in front of the entire school. Obviously, I said yes. He was shocked; nobody had ever taken his dares seriously before. That night we did nothing but talk about what could that be and more scary things like that.
I had a strange dream that night.
I was alone in my room almost asleep, and then I saw that...thing, it wasn't normal, it was like a wolf, but this one had red eyes that dug into you, and his, its, mouth was filled with foam and big, sharp teeth. In its mouth, a long pointy tongue. As for its body- it was as big as a horse and it had long messy hair all around its body. While it was getting closer, I started to feel and smell its breath, a horrible, stinking breath. It smelled like thousands of dead people, thrown in a hole, left for an hour, a day, weeks, months...years. My heart started beating so fast then he shouted so loud my hears starting to bleed and again and again and again so much blood its getting closer-
Then I woke up. It was all a dream.
But, somehow, I didn't believe myself.
The next three days were relatively uneventful. Normal school for normal people.
But the streak was broken on the forth day. Rather, the fourth night.
I was getting ready for bed when I hear a howl of agony coming from the so-called 'haunted' house. I sneak a peek, and catch the thing staring at my window. It shifts its gaze towards me, and stares right at me, right into me. Alright, you fuck, shit just got serious. Don't fuck around with me. I know you're just a hooligan in a white suit. Bastard.
As I neared the fence, the thing vanished from my view. I chased after it, and ran into the house., It was old from the inside, a few chairs and a Victorian style hung around the few furniture that there was. I walked all over the first floor but then the lights of the stairs came on, I didn't want to stay in there but something dragged me to some sort of room. The thing was in there, its mouth shaped in a smile. It beckoned, it beckoned.
And it just popped into thin air. I had the instinct to look behind me, but the room was in front of me, not behind me. I walked in. The door slammed shut, and the thing suddenly appeared in front of me. My heart skipped five beats.
When I gathered myself, I realized it was pointing to a book on a table inside the room. Shaking, I took a look at it:
"The Dream Guide: 10 Dreams One Must Have Before He Dies!"
And I know that thing was speaking to me, in my head. It instructed me to open the page. The text there was detailing a nightmare in which everything seemed real, but it wasn't.
I read all of them. It told me to.
Then it told me to hunt.
Hunt everyone.
Everyone who had one of those dreams.
I grab a knife, and walk out to the front door.