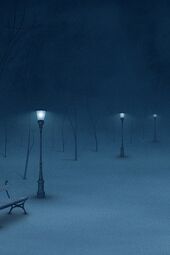 A haunting presence darkens the night
With overcast suffocating the moon,
But upon the street leaks uremic light
Like bright blood dripping from an open wound.
Reaching for the sky, those candles did crave
To break through that glass and prolong their lives.
Try as they might, it's too hard to be brave;
As they stand still in fear, wax tears they cried.
And we died inside lamp posts, ourselves, alone;
We're atone In all but polyphony,
Your sweet gaze soured against metal bones,
Superfluous in all its irony.
At last the lights flickered at dawn's break;
The candles that passed made no more mistakes.
---
Written by Avenging Angel
Content is available under CC BY-SA