Cabin in the Woods
Talk

0
11,911pages on
this wiki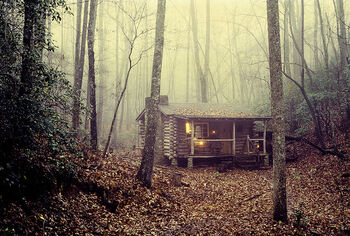 Some say if you go into the woods on a dark, stormy night, you will eventually find an old, beaten down cabin. The cabin only has two rooms, the main living room with a kitchen area and stove, and then a one person bedroom. There isn't much furniture and the cabin looks like it could fall over at any moment.
When you go inside, (If you're brave enough) search the cabin for a large, bound book. The book will have no cover or words on the front. Some have reported finding the book in different places. Some find it under the bed in the bedroom, or even the oven in the kitchen area. It shouldn't be too hard to find though, considering the small size of the cabin.
Once you find the book, open it up. It is obviously a journal that dates all the way back to the early 1900s. It is a fairly large journal; the name of the owner is illegible due to years of age. Parts of the journal will also be unreadable. On page 87, you can read very troubling and disturbing facts on how the owner of the journal (assumed a man) starts to go insane and locks his wife (Mentioned as Sarah) and two kids who ages or genders are never mentioned, their names are Pat and Sam.
Reading this and you will learn about how the man degradingly tortured, eventually killed, and then ate his entire family. The very last page is a seemingly meaningless, almost-unreadable rant. Most would dismiss this as a crazy man's writing, but it is much more than that. If you take the first letter from each sentence, it spells out a word.
This last part is optional. I don't know why you would want to do this, but those who are curious enough (or is that "stupid" enough?) can go into the bedroom, close the door and chant the word you discovered at the end of the journal. I do not know how many times it must be chanted, I'm sorry I didn't gather that much information. But after chanting it enough times, the ghosts of the man and his family appear. Don't worry; your life isn't in danger because they act as if you aren't there. You may sit and watch the man torture his family all night. Just before day break, the man kills his family and starts to hack away their limbs before their ghostly forms disappear with the arriving sunlight.
I must warn you that this is a gruesome sight to behold for anybody. You may not be risking your life trying this, but many that do try are never the same again.